2016: In Memoriam
As we do here at B+ Movie Blog, we kick off the new year by remembering those we lost in the previous one.
It's not so much mourning the loss as much as it's about appreciating these people and what they've given us. We don't always appreciate what people have given until they can't give anymore. The people on this list dedicated their lives to our entertainment. And I want to celebrate them.
I limit my list each year to 50 people, because otherwise it's too much (especially with the cultural carnage we had this year) and I can't spend time talking about the ones who mean the most to me. So while this is not a list of everyone who died in 2016, these are the people who died in 2016 that mean the most to me.
Ken Adam
(February 5, 1921 – March 10, 2016)
(95!!)
That photo of him says it all. Renowned production designer who made some of the most famous film sets of all time. The war room in Dr. Strangelove is one of the most iconic sets ever made.
Adam also did the sets for all the early Bond movies — Dr. No, Goldfinger, Thunderball, You Only Live Twice, Diamonds Are Forever, The Spy Who Loved Me and Moonraker. He also worked on Around the World in 80 Days, The Ipcress File, Funeral in Berlin, Chitty Chitty Bang Bang, Sleuth, and Barry Lyndon.
He won two Oscars, one for Barry Lyndon and one for The Madness of King George.
Edward Albee
(March 12, 1928 – September 16, 2016)
(88!)
Great American playwright. Who's Afraid of Virginia Woolf? is a masterpiece. He won the Pulitzer three times.
Look at this. It's the performances, but also the writing:
Muhammad Ali
(January 17, 1942 – June 3, 2016)
(74)
One of the most important figures in American history, period, over the past 50 years. Perhaps the greatest boxer of all time, activist, larger than life figure — this man cast a very large shadow and leaves behind a monumental legacy.
Frank Armitage
(August 5, 1924 – January 4, 2016)
(91!)
Gotta show some love for these Disney animators. This man worked on Peter Pan, Lady and the Tramp, Sleeping Beauty, Mary Poppins and Jungle Book.
Hector Babenco
(February 7, 1946 – July 13, 2016)
(70)
Oscar nominated director of Kiss of the Spider Woman. He also directed Ironweed. Those are pretty much the only two that are well known here. Kiss of the Spider Woman is pretty great.
David Bowie
(January 8, 1947 – January 10, 2016)
(69)
I can't even put this one into words. This one sucked hard, and it was just the beginning of the year.
Nothing I can say will do him justice, so I'm gonna let the man speak for himself.
Tony Burton
(March 23, 1937 – February 25, 2016)
(78)
Duke, man. Apollo Creed's trainer. He ended up in six Rocky movies, because he's such a great presence. He was also in The Shining and Assault on Precinct 13.
Michael Cimino
(February 3, 1939 – July 2, 2016)
(77)
He directed The Deer Hunter. He's responsible for one of the greatest films ever made. Best Picture winner, he won Best Director for it. He's also responsible for Heaven's Gate, which makes him a big footnote in film history with regard to the end of the 70s era of filmmaking.
His first movie, Thunderbolt and Lightfoot, is also very, very good.
Leonard Cohen
(September 21, 1934 – November 7, 2016)
(82)
Jim Clark
(May 24, 1931 – February 25, 2016)
(84)
Oscar-winning editor. He won for The Killing Fields. He also edited The Grass Is Greener, Charade, The Pumpkin Eater, Darling, Far from the Madding Crowd, Marathon Man, The Mission, This Boy's Life, Nell, Marvin's Room, The World Is Not Enough, Vera Drake and Happy-Go-Lucky.
Alice Drummond
(May 21, 1928 – November 30, 2016)
(88!)
She was the librarian in Ghostbusters. Also was in Funny Farm, Awakenings, To Wong Foo Thanks For Everything Julie Newmar, Synecdoche New York, Doubt.
I always know her from In & Out, as one of the old ladies sitting around the reception, confessing all these things about themselves. And she's the one that says, "I hated the Bridges of Madison County." Which I always loved as a movie line.
Most people will remember her from Ace Ventura as Ray Finkle's mother.
Patty Duke
(December 14, 1946 – March 29, 2016)
(69)
She didn't make a whole lot of movies, but is in two big ones. First, as Neely O'Hara in Valley of the Dolls. And, more memorably, in The Miracle Worker, as Helen Keller.
Frank Finlay
(August 6, 1929 – January 30, 2016)
(89!)
Mostly a stage actor. Though he was Oscar nominated as Iago in the Laurence Olivier blackface version of Othello. He also had roles in The Longest Day, Inspector Clouseau, The Shoes of the Fisherman, The Molly Maguires, Cromwell, Shaft in Africa, The Three Musketeers and The Pianist.
Carrie Fisher
Princess fucking Leia, man. 2016 sure did hit everyone in the dick on the way out.
Much has been written about her the past few weeks, a lot talking about her writing work and script doctoring.
To get the actress part out of the way, she was in Shampoo, The Blues Brothers, Hannah and Her Sisters, The 'Burbs, When Harry Met Sally, Drop Dead Fred, Soapdish, she had a small role in Austin Powers, Scream 3, Jay and Silent Bob Strike Back and also was a voice on a bunch of episodes of Family Guy.
As a writer, that's what I want to talk about. She wrote a movie about her life, Postcards from the Edge, that is just great. Meryl Streep was nominated for an Oscar, it's really terrific. And really brave to put her issues out there like that. She also has a one woman show called Wishful Drinking that's very, very good. It's that stuff that makes her a huge loss, not just the Princess Leia part of it all.
Glenn Frey
(November 6, 1948 – January 19, 2016)
(67)
Technically he acted in Jerry Maguire, but… Eagles, man. He played on some of the great rock songs of all time. He sang lead on "Heartache Tonight" and "Take It Easy," and had a solo career with the big hit being "The Heat Is On." He also sang lead on this:
Zsa Zsa Gabor
(February 7, 1917 – December 18, 2016)
(99!!)
I'm as surprised as you are. I thought she couldn't die.
Antony Gibbs
(October 17, 1925 – February 26, 2016)
(90!)
Another Editor. A Taste of Honey, The Loneliness of the Long Distance Runner, Tom Jones, The Knack… and How to Get It, Performance, Walkabout, Fiddler on the Roof, Jesus Christ Superstar, Rollerball, A Bridge Too Far, Dune, Ronin. Dude edited Ronin in his 70s. That's impressive.
Guy Hamilton
(September 16, 1922 – April 20, 2016)
(93!)
Known for his James Bond movies. Goldfinger, Diamonds Are Forever, Live and Let Die, The Man with the Golden Gun. All respectable ones too. He didn't get stuck with the shit of the shit. He also directed Funeral in Berlin, Battle of Britain, Force 10 from Navarone, Remo Williams: The Adventure Begins. But he'll always be known for Goldfinger. That movie is just perfect.
Curtis Hanson
(March 24, 1945 – September 20, 2016)
(71)
Two words: L.A. Confidential. That movie is a masterpiece.
He never quite reached those heights again, though he does have some other solid movies on his resume. The Hand That Rocks the Cradle, The River Wild, In Her Shoes, Lucky You, Chasing Mavericks.
8 Mile is a really solid film, and the one that not enough people go back to or recognize as a terrific movie — Wonder Boys. Go back and watch that one, it's a real gem.
Arthur Hiller
(November 22, 1923 – August 17, 2016)
(92!)
What a master director. This man made some monster hits.
The Americanization of Emily is one of the great movies of the 60s. James Garner and Julie Andrews. I think they both say that's their favorite movie of theirs they've made. It's a great war satire that nobody even remembers anymore.
Promise Her Anything is a Warren Beatty, Leslie Caron comedy. Penelope is a great comedy with Natalie Wood as a crazy, kleptomaniac housewife. The Out-of-Towners is a great Neil Simon, Jack Lemmon, Sandy Dennis comedy. Plaza Suite is another Neil Simon. Man of La Mancha. The Hospital. Great Paddy Chayefsky black comedy. The Man in the Glass Booth. Great Robert Shaw-written movie about a Jew who may be a Nazi war criminal. Silver Streak, See No Evil Hear No Evil — Gene Wilder and Richard Pryor. The In-Laws. Serpentine! The man made The In-Laws.
And the big movie of his … Love Story. Which was such a huge film for the 70s and such a cultural touchstone for a lot of people.
People would be lucky to get two of the movies this guy made. And he's got like ten great ones.
Ken Howard
(March 28, 1944 – March 23, 2016)
(71)
Former president of the Academy. Famous (to me, at least) for playing Thomas Jefferson in 1776.
Also appeared in Tell Me That You Love Me, Junie Moon, Clear and Present Danger, Two episodes of Curb Your Enthusiasm, Michael Clayton, J. Edgar, nine episodes of 30 Rock, The Judge, Joy
David Huddleston
(September, 17, 1930 – August 2, 2016)
(85!)
I always remember him as Olson Johnson in Blazing Saddles, but everyone will remember him as the titular Big Lebowski. The bums will always lose.
He also played Santa Claus in Santa Claus: The Movie. So there is that too.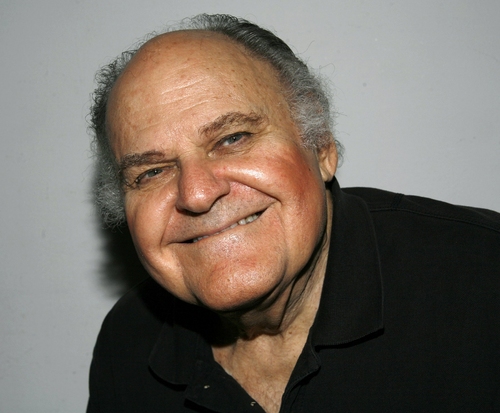 George S. Irving
(November 1, 1922 – December 26, 2016)
(94!)
He did a bunch of stuff on the stage and had a TV career. But let's not pretend why he meant a lot to me. It's this:
Sharon Jones
(May 4, 1956 – November 18, 2016)
(60)
We lost yet another great performer.
George Kennedy
(February 18, 1925 – February 28, 2016)
(91!)
This man… what a great actor. He won an Oscar for Cool Hand Luke as Dragline, and I'm sure most people will remember him as Ed from The Naked Gun.
He was also in Lonely Are the Brave, Hush, Hush… Sweet Charlotte, In Harm's Way, Shenandoah, The Sons of Katie Elder, The Flight of the Phoenix, The Dirty Dozen, The Boston Strangler, Airport, Guns of the Magnificent Seven, Lost Horizon, Thunderbolt and Lightfoot, Earthquake, The Eiger Sanction.
If you had a badass movie from the 60s and 70s, chances are George Kennedy was in it.
I'll always have a special place in my heart for him because he delivered one of the funniest lines I've ever seen in a movie:
That line never fails to make me laugh.
Harper Lee
(April 28, 1926 – February 19, 2016)
(89!)
She wrote To Kill a Mockingbird, which makes her one of the most important people in all of our lives.
She gave us Atticus Finch.
I mean, she then turned around and made him a racist, but she did give him to us.
Garry Marshall
(November 13, 1934 – July 19, 2016)
(81)
He has acted — was a "Hoodlum" in Goldfinger. I knew him as Walter Harvey in A League of Their Own. He was also in Soapdish, Hocus Pocus, Beaches, Pretty Woman, Orange County.
His directing career is what we know him for. Hh started writing on Lucy and Dick Van Dyke, created The Odd Couple, Mork and Mindy, Laverne & Shirley, Happy Days.
You get that? He created The Odd Couple, Mork and Mindy, Laverne & Shirley and Happy Days. You create one of those shows and you're set for life. This motherfucker did well.
He also directed Nothing in Common, Overboard, Beaches, Pretty Woman, Runaway Bride, The Princess Diaries, and those holiday movies, Valentine's Day, New Year's Eve, Mother's Day.
Pretty Woman is a big one. The others will have big fans, but Pretty Woman is the one everybody knows.
George Martin
(January 3, 1926 – March 8, 2016)
(90!)
The producer of the Beatles. That's it. He was the man who produced all the Beatles albums, which makes him one of the most important people in all of our lives.
You wanna know how important he was? The Beatles had a song that Paul wrote, but they didn't think it quite fit with their style. They were trying to figure out what to do with it. And Martin said, "Why not do it like this?" To which they said, "That's not a good idea," and he said, "Trust me, you can pull this off. And the result:
George Michael
(June 25, 1963 – December 25, 2016)
(53)
Marni Nixon
(February 22, 1930 – July 24, 2016)
(86!)
She was the "voice of the stars." She did all the singing for a lot of famous movies. When it looked like the starts were singing, it was actually Marni Nixon. And not just regular musicals, big musicals.
She dubbed the high notes in "Diamonds Are a Girl's Best Friend" for Marilyn Monroe in Gentlemen Prefer Blondes. She sang for Deborah Kerr in The King and I (and An Affair to Remember). She sang for Natalie Wood in West Side Story. She sang for Audrey Hepburn in My Fair Lady.
And if you think that's impressive, we're not done yet.
She sang for Cinderella. She sang "A Dream Is a Wish Your Heart Makes."
She played a nun in The Sound of Music and sang "(How Do You Solve a Problem Like) Maria."
She was Mulan's grandmother in Mulan and sang "Honor to Us All."
This woman was a huge figure in your film watching experience, and you likely had no idea she existed.
Bill Nunn
(October 20, 1953 – September 24, 2016)
(62)
RIP Radio Raheem.
Arnold Palmer
(September 10, 1929 – September 25, 2016)
(87!)
He was a sports figure. Had nothing to do with movies or television. But since this is a list of people that meant the most to me, I had to include the man who made the most delicious beverage ever made. Half iced tea, half lemonade, fully glorious.
Jon Polito
(December 29, 1950 – September 1, 2016)
(65)
Character actor that we all recognize. Mostly from the Coen brothers movies. Miller's Crossing, Barton Fink, The Hudsucker Proxy, The Big Lebowski, The Man Who Wasn't There. You definitely recognize him from there. He was also in Highlander, The Rocketeer, The Crow, Stuart Little, Flags of Our Fathers, American Gangster, Gangster Squad, Big Eyes. And also he was in Seinfeld. In the Reverse Peephole episode, he played Silvio, the guy who thinks Kramer is sleeping with his wife. He's definitely the epitome of "that guy."
Prince
(June 7, 1958 – April 21, 2016)
(57)
Debbie Reynolds
(April 1, 1932 – December 28, 2016)
(84)
How messed up was it that she died the day after her daughter? If you saw Postcards from the Edge, you'll really appreciate how she managed to steal her daughter's thunder in death. There's a bittersweet irony to that.
That aside, she was one of the biggest stars of the 50s and 60s, and in some of the greatest movies ever made.
She had a couple of smaller movies, The Daughter of Rosie O'Grady, Three Little Words, Two Weeks with Love. But her big breakthrough came from a little musical you may have heard of:
She played the ingenue for a while, to great affect in a movie called Susan Slept Here, which is pretty wonderful. She was in The Tender Trap with Frank Sinatra. The Catered Affair was very good. Her and Bette Davis and Ernest Borgnine. She was in Bundle of Joy, Tammy and the Bachelor, This Happy Feeling, The Mating Game, The Rat Race (which I love), How the West Was Won! She was in the Gregory Peck storyline. She gets a lot of screen time and is one of the few characters who crosses multiple storylines in that.
She got her only Oscar nomination for The Unsinkable Molly Brown, in which she is a force of nature. She's working it in that movie.
Goodbye Charlie is a great movie, where a lecherous dude dies and is reincarnated in the body of a woman, so she basically plays a dude in the body of a woman, which is just fantastic.
She was in The Singing Nun, Divorce American Style, Charlotte's Web as the voice of Charlotte, Heaven & Earth, Albert Brooks' Mother, which she is fantastic in. She plays Kevin Kline's mother in In & Out! She was a voice on Rugrats! As Grandpa's wife. And her last movie was as Liberace's mother in Behind the Candelabra.
Alan Rickman
(February 21, 1946 – January 14, 2016)
(69)
This one hurt too. How do you not love Alan Rickman?
This man's first movie was Die Hard. Die Hard! He was Hans Gruber!
He also was in Robin Hood: Prince of Thieves, Sense and Sensibility. Michael Collins. The Hitchhiker's Guide to the Galaxy, Sweeney Todd, Alice in Wonderland, The Butler. He just had a great role in Eye in the Sky. He was also in Dogma, as Metatron. He's so fucking good in Dogma.
And Galaxy Quest!
But of course, the one (aside from Die Hard) that we're all gonna remember. Severus Snape.
"Always."

Peter Shaffer
(May 15, 1926 – June 6, 2016)
(90!)
He wrote Amadeus, and he wrote Equus. That's all you need to know. Fucking Amadeus!
Garry Shandling
(November 29, 1949 – March 24, 2016)
(66)
This man created The Larry Sanders Show, which is one of the great comedies of all time.
And he plays the biggest smarmy douchebag in the world in the Iron Man movies. That fake smile he gives at the end of Iron Man 2 is one of the great images in Marvel history.
Man, I'm gonna miss him.
Douglas Slocombe
(February 10, 1913 – February 22, 2016)
(103!!!)
Cinematographer. This man shot some great, great movies.
Kind Hearts and Coronets, The Lavender Hill Mob, The Man in the White Suit, The L-Shaped Room, The Lion in Winter, The Italian Job, Jesus Christ Superstar, The Great Gatsby, Rollerball, Never Say Never Again. All great movies.
Oh, and he shot three other movies you may have heart of: Raiders of the Lost Ark, Temple of Doom and Last Crusade.
Not bad for a guy who lived to 103.
Robert Stigwood
(April 16, 1934 – January 4, 2016)
(81)
He produced some great movies. Evita and Sgt. Pepper's Lonely Hearts Club Band, Bugsy Malone, which is just a wonderful oddity in the history of cinema.
The three big movies he made:
Tommy, which is just a perfect movie for what it is. "Pinball Wizard" — what a great movie.
But if that doesn't do it for you, can I interest you in Saturday Night Fever?
No? Well how about this one:
This man produced Grease. This man produced all of these movies. This man is owed a huge debt by all of us. He made our childhoods.

Vanity
(January 4, 1959 – February 15, 2016)
(57)
The Last Dragon, man.
Robert Vaughn
(November 22, 1932 – November 11, 2016)
(83)
One of the great actors and character actors. I love Robert Vaughn. He became known for The Man from U.N.C.L.E., playing Napoleon Solo. But he actually got an Oscar nomination before that for The Young Philadelphians. And then he had great parts in The Magnificent Seven and Bullitt and The Towering Inferno. He was also in Superman III. I first learned who he was from BASEketball. And of course, he was in Pootie Tang.
Abe Vigoda
(February 24, 1921 – January 26, 2016)
(94!)
I know, this sounds like a joke. But he actually died.
Tessio in The Godfather. Fish TV series / BArney Miller spinoff. The Cheap Detective. Look Who's Talking, Joe Versus the Volcano. North. Jury Duty.
Good Burger.
The only man to be in both The Godfather and Good Burger.
Move over, John Cazale.
Andrzej Wajda
(March 6, 1926 – October 9, 2016)
(90!)
Ashes and Diamonds. Generally thought of as one of the greatest films ever made. I don't know the rest of his filmography at all, but Ashes and Diamonds will always have a special place in my heart.
Michael White
(January 16, 1936 – March 7 ,2016)
(80)
Producer. Two movies alone make him someone who had a lasting contribution to film.
He produced (and was a full producer on) Monty Python and the Holy Grail, and The Rocky Horror Picture Show.
Margaret Whitton
(November 30, 1949 – December 4, 2016)
(67)
She made a handful of movies. 9 1/2 Weeks, Ironweed, Little Monsters.
But the role I'll always remember her for is Rachel Phelps in Major League. She's in one of the funniest scenes I've ever seen, one that never fails to make me laugh:
Nothing is better than the end of the movie when Charlie Sheen comes out to close the game and "Wild Thing" blares throughout the stadium and she says the line, "I hate this fucking song."
Gene Wilder
(June 11, 1933 – August 29, 2016)
(83)
This one hurt. There's always one that hurts each year. This one had a few. In terms of movies, this one hit me the hardest.
The Producers. "Give me my blue blanket!" What a genius comic performance.
His first movie was Bonnie and Clyde!
Blazing Saddles. "Nowhere special. Always wanted to go there."
Young Frankenstein. "What knockers."
He helped write that movie. Was Oscar nominated for writing.
Silver Streak, The Frisco Kid, Stir Crazy, See No Evil Hear No Evil, Haunted Honeymoon.
He also directed four movies and wrote a few others too.
But of course, the one that means everything to all of us, Willy Wonka and the Chocolate Factory.
Anton Yelchin
(March 11, 1989 – June 19, 2016)
(27)
One of the more interesting young actors who made good choices. He was in Hearts in Atlantis back in the day, was in one of the early seasons of Curb Your Enthusiasm (he's the kid that does the magic trick for Larry and Cheryl and refuses to tell them how he did it because a magician "never reveals his secrets"). He was in Alpha Dog, Charlie Bartlett, Terminator Salvation as Kyle Reese, The Beaver, the Fright Night remake, Odd Thomas, Only Lovers Left Alive, 5 to 7, Burying the X. Most people will know him as Chekov in the Star Trek movies. I first noticed him… well, Charlie Bartlett… but his best role for me was in Like Crazy, which launched Felicity Jones and got him great notices. Green Room this year was his last movie, which was both a great performance and a great movie.
Alan Young
(November 19, 1919 – May 19, 2016)
(96!!)
He was Wilbur in Mister Ed. But for my purposes, he was the voice of Scrooge McDuck. And Farmer Smurf, for those who really go deep into Smurf lore.
Vilmos Zsigmond
(June 16,1930 – January 1, 2016)
(85!)
One of the great cinematographers. He did McCabe & Mrs. Miller, The Long Goodbye, Deliverance, Scarecrow, Cinderella Liberty, Sugarland Express, The Deer Hunter and Heaven's Gate. He won an Oscar for Close Encounters of the Third Kind.
2 responses