2018: In Memoriam
As we do here at B+ Movie Blog, we begin the new year by remembering those we lost in the previous one.
It's not so much mourning the loss as much as it's about appreciating these people and what they've given us. We don't always appreciate what people have given until they can't give anymore. The people on this list dedicated their lives to our entertainment. And I want to celebrate them.
I limit my list to 50 people, because otherwise it's too much and I can't spend time talking about the ones who mean the most to me. So while this is not a list of everyone who died in 2018, these are the people who died in 2018 that mean the most to me.
Michael Anderson
January 30, 1920 – April 25, 2018
(98!!)
Director, best known for Around the World in 80 Days, which won Best Picture for 1956. He also directed The Dam Busters, 1984, The Shoes of the Fisherman with Anthony Quinn as the Pope. And probably his other best known film is Logan's Run. He's one of those guys who worked a bunch but really only had two big noticeable films. The rest kind of fly under the radar.
Bernardo Bertolucci
March 16, 1941 – November 26, 2018
(77)
Great director. Last Tango in Paris is the one that everyone goes to first, but The Last Emperor is an incredible movie, and it swept the Oscars for 1987. He also directed The Conformist, 1900, Luna, The Sheltering Sky, and The Dreamers. Last Tango is one of the most iconic films ever made, and The Last Emperor is so so good.
Yvonne Blake
April 17, 1940 – July 17, 2018
(78)
Costume Designer. She won an Oscar for Nicholas and Alexandra in 1971, and then went on to do costumes for Jesus Christ Superstar, The Four Musketeers, Robin and Marian, and, most notably, Superman. Her last big effort was What Dreams May Come.
Philip Bosco
September 26, 1930 – December 3, 2018
(88!)
Character actor who first came to my attention in 2007 when he played the father in The Savages. But his work goes back to the 60s. He was one of those guys who did an episode of all the shows, eventually becoming one of those guys who popped up in a bunch of big movies, like Trading Places, The Pope of Greenwich Village, Heaven Help Us, The Money Pit, Children of a Lesser God, 3 Men and a Baby, Working Girl, The Dream Team, Quick Change, Shadows and Fog, First Wive's Club, It Takes Two, My Best Friend's Wedding, Wonder Boys, Shaft, Kate & Leopold and Hitch. He's one of those guys — you've seen him in something, even if you don't know it.
Martin Bregman
May 18, 1926 – June 16, 2018
(92!)
Producer who's made a couple of really big movies, mainly with Al Pacino. Those are: Serpico, Dog Day Afternoon, Scarface and Carlito's Way. Yeah. Some real shit. He was also an EP on Matilda, which is right up there with those other movies. Not to mention, The Adventures of Pluto Nash that masterpiece.
Reg E. Cathey
August 18, 1958 – February 9, 2018
(59)
LOVED this man. He's been in so much stuff. I really fell in love with him as Freddy on House of Cards, the guy that owns the rib joint Frank always goes to. But he's been in stuff going back 30 years. Funny Farm, Born on the Fourth of July, Quick Change, What About Bob?, The Mask, Clear and Present Danger, Airheads, Se7en, Tank Girl, American Psycho, Pootie Tang, Head of State, S.W.A.T., Arbitrage, St. Vincent, Fantastic Four, Hands of Stone, and he was on Luke Cage and The Wire.
John Carter
September 22, 1922 – August 13, 2018
(95!!)
Editor. He's got some cool stuff on his resume. The Heartbreak Kid, Mikey and Nicky, Lean on Me, Karate Kid III, Deep Cover, Boomerang, Sister Act 2: Back in the Habit, Friday, Set It Off, Men of Honor, Barbershop, and of course, Madea's Family Reunion.
Anne V. Coates
December 12, 1925 – May 8, 2018
(92!)
One of the great editors of all time, most famous for her flawless work on Lawrence of Arabia, where she was responsible for the greatest cut in the history of cinema:
A literal match cut.
She won an Oscar for her work, and rightfully so. And she went on to edit Becket, Murder on the Orient Express, The Elephant Man, Greystoke, What About Bob?, Chaplin, In the Line of Fire, Congo, Striptease, Out to Sea, Out of Sight, Erin Brockovich, Unfaithful, The Golden Compass, and her final film… Fifty Shades of Grey.
So yeah, the woman who edited Lawrence of Arabia also edited Fifty Shades of Grey. She was 90 when she did it, so there is that. And probably explains a lot too.
Philip D'Antoni
February 19, 1929 – April 15, 2018
(89!)
He started off as a producer of films like Bullitt and The French Connection, which feature probably the two best known car chases in the history of film. He took that experience and directed The Seven-Ups, which is a spiritual cousin to The French Connection, and has a chase that most people think rivals that one. It's pretty awesome.
Harlan Ellison
May 27, 1934 – June 28, 2018
(84)
Sci-fi writer who wrote A Boy and His Dog, which became a great film. He also wrote the script for The Oscar. He did a bunch of TV episodes for stuff like The Man from U.N.C.L.E. and Star Trek, wrote on the Twilight Zone reboot in the 80s, and had his stories turned into numerous episodes on anthology shows.
R. Lee Ermey
March 24, 1944 – April 15, 2018
(74)
Actual marine turned actor. He's got a minor role as a helicopter pilot in Apocalypse Now, but his big break came when he played Gunnery Sgt. Hartman in Full Metal Jacket. The entire first half of that movie is his movie, and he delivers one of the most iconic performances of all time. And then he'd go on to become a famous character actor, appearing in films like Mississippi Burning, Fletch Lives, The Naked Gun 33 1/3, Murder in the First, Se7en, Leaving Las Vegas, Dead Man Walking, Toy Story, Life, Saving Silverman and The Texas Chainsaw Massacre.
But Full Metal Jacket, though…
Pablo Ferro
January 15, 1935 – November 16, 2018
(83)
Graphic designer who created title cards for films. Those include, The Thomas Crown Affair, Bullitt, Midnight Cowboy A Clockwork Orange, Harold and Maude, Bound for Glory, Being There, Stop Making Sense, Beetlejuice, Married to the Mob, The Addams Family, Philadelphia, That Think You Do!, Men in Black, Good Will Hunting, As Good as It Gets, My Big Fat Greek Wedding and Napoleon Dynamite. But probably his most famous title design, as far as I'm concerned, is this one: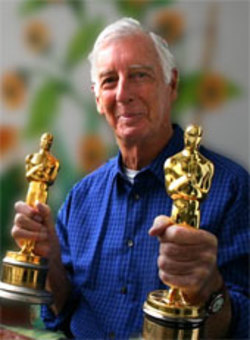 Michael Ford
1928 – May 31, 2018
(90!)
Art director and set decorator. He worked on a couple of movies you may have heard of: The Empire Strikes Back, Return of the Jedi, Raiders of the Lost Ark, The Living Daylights, Empire of the Sun, Licence to Kill, The Muppet Christmas Carol, GoldenEye and Titanic. He won two Oscars, for Raiders and Titanic.
Milos Forman
February 18, 1932 – April 13, 2018
(86!)
One of the great directors. He won Best Director twice, for two of the greatest films ever made: One Flew Over the Cuckoo's Nest and Amadeus. And he also made Hair, Ragtime, Valmont, The People vs. Larry Flynt, and Man on the Moon. This man has an incredible, incredible resume.
Aretha Franklin
March 25, 1942 – August 16, 2018
(76)
The Queen of Soul.
More of a music entry than a film entry, but she did cross over into film for one magical moment:
I could sit here and post links to dozens of her songs, but instead, I'm just gonna give you one clip. Because it's amazing:
John Gavin
April 8, 1931 – February 9, 2018
(86!)
Actor. Best known for playing Sam Loomis in Psycho. He was also in Imitation of Life, Spartacus and Thoroughly Modern Millie.
Eunice Gayson
March 17, 1928 – June 8, 2018
(90!)
Actress who made a bunch of movies, but is best known for playing Sylvia Trench in Dr. No (and also briefly in From Russia with Love). She's the one who prompts the very first, "Bond. James Bond," as she's the one playing him in the card game. In fact, it's the way she speaker her line that prompts him to respond the way he does.
Lewis Gilbert
March 6, 1920 – February 23, 2018
(97!!)
Director who first came to prominence with Alfie, which earned him an Oscar nomination. And then he went on to direct You Only Live Twice, The Spy Who Loved Me and Moonraker, which, all things considered, are three quite good Bond movies. And then after those, he also directed Educating Rita and Shirley Valentine. Most people don't get that many solid films.
Bill Gold
January 3, 1921 – May 20, 2018
(97!!)
Designer of movie posters. He made some real classics. So, rather than just list them all, let's show a bunch:
And, just a sample of all the other posters he created:
Yankee Doodle Dandy, The Big Sleep, Rope, Strangers on a Train, A Streetcar Named Desire, East of Eden, Mister Roberts, Baby Doll, Giant, The Searchers, The Wrong Man, A Face in the Crowd, Splendor in the Grass, Gypsy, The Music Man, Sex and the Single Girl, The Great Race, Who's Afraid of Virginia Woolf?, Wait Until Dark, Barbarella, Funny Girl, Ryan's Daughter, There Was a Crooked Man, Woodstock, Diamonds Are Forever, Fiddler on the Roof, Get Carter, Dirty Harry, Klute, McCabe & Mrs. Miller, Deliverance, Jeremiah Johnson, What's Up Doc, High Plains Drifter, O Lucky Man, Papillon, The Way We Were, The Sugarland Express, Dog Day Afternoon, All the President's Men, Marathon Man, Smokey and the Bandit, The Wiz, Escape from Alcatraz, The Great Santini, Hair, Fame, Heaven's Gate, The Stunt Man, Clash of the Titans, On Golden Pond, My Favorite Year, Splash, Pale Rider, Platoon, The Untouchables, Mississippi Burning, In the Line of Fire, The Bridges of Madison County and Mystic River.
Oh yeah, and this one:
William Goldman
August 12, 1931 – November 16, 2018
(87!)
Writer responsible for some of the absolute best films of all time.
He wrote the book for Soldier in the Rain, a fantastically underrated Steve McQueen/Jackie Gleason movie. Then he wrote Harper, a Paul Newman detective movie. Which led to him writing the script for a little movie called Butch Cassidy and the Sundance Kid, for which he won his first Oscar. Then he went on to write the Hot Rock (awesome movie), Papillon, The Stepford Wives, The Great Waldo Pepper, All the President's Men (for which he won his second Oscar), Marathon Man (from his own novel), A Bridge Too Far, Magic, The Princess Bride (from his own novel), Misery, Chaplin and Maverick.
Butch and Sundance alone would have cemented a career, but look at those other ones! All the President's Men is a perfect screenplay. Hell, most of these are perfect screenplays. This man was a national treasure.
Barbara Harris
July 25, 1935 – August 21, 2018
(83)
Actress who didn't work often, but when she did, it was magical. Her first film was A Thousand Clowns with Jason Robards. Then she went on to Plaza Suite, Who Is Harry Kellerman and Why Is He Saying Those Terrible Things About Me (for which she earned an Oscar nomination), Nashville, Family Plot, and most famously, Freaky Friday. She worked less frequently after that, but did manage to appear in Peggy Sue Got Married, Dirty Rotten Scoundrels and Grosse Point Blank.
Tab Hunter
July 11, 1931 – July 8, 2018
(86!)
Teen idol of the 50s. Starred in Track of the Cat, Battle Cry, The Sea Chase and, most notably, Damn Yankees.
Ricky Jay
June 26, 1946 – November 24, 2018
(72)
One of the great magicians who also became a character actor in the 80s and 90s. He first appeared in David Mamet's House of Games, then later in his other films Homicide and The Spanish Prisoner. Perhaps his biggest roles were in Boogie Nights and Tomorrow Never Dies. He also narrated Magnolia for Paul Thomas Anderson. Then he was in Mystery Men, State and Main, Heist, The Prestige, The Great Buck Howard, The Brothers Bloom (which he narrated). He also was in Deadwood for ten episodes. But mainly, you gotta see this:
Johann Johannsson
September 19, 1969 – February 9, 2018
(48)
Incredible film composer who we lost far too soon. He worked primarily overseas until he got noticed here with his work on Prisoners. He followed that up with The Theory of Everything, for which he was Oscar-nominated. And then he followed that up with Sicario:
He also scored Arrival, another amazing effort, and then had three final scores this year, The Mercy, Mary Magdalene and Mandy.
Alan Johnson
February 18, 1937 – July 7, 2018
(81)
Choreographer responsible for some of the greatest film musical moments of all time. Rather than just tell you them, here they are:
And, of course:
Oh, and he also directed the Mel Brooks-starring To Be or Not to Be remake, which is hilarious.
But also, Springtime for Hitler and Puttin' on the Ritz. That's huge.
Margot Kidder
October 17, 1948 – May 13, 2018
(69)
Lois Lane. That's how most people know her. And truly, that is her most memorable role, playing it four times in the Christopher Reeve Superman movies. Aside from those, she was also in Gaily, Gaily, Sisters, Black Christmas, The Great Waldo Pepper and The Amityville Horror.
Morgana King
June 4, 1930 – March 22, 2018
(87!)
Actress and singer best known for playing Mama Corleone in the Godfather films. There are certain movies where I will always single out someone from them when they die, and that's one of them.
Francis Lai
April 26, 1932 – November 7 2018
(86!)
Film composer who worked for fifty years. Most of his scores are for films no one really knows or remembers. But there's one film of his for which he'll always be remembered. It won him an Oscar, and remains one of the most iconic scores ever recorded:
Claude Lanzmann
November 27, 1925 – June 28, 2018
(92!)
Documentarian who made one of the greatest films of all time: Shoah, a nine hour Holocaust documentary. Required viewing for all film fans, Lanzmann leaves an indelible legacy through that alone.
Stan Lee
December 28, 1922 – November 12, 2018
(95!)
I mean, yeah. He created all those characters, then crossed over into cultural icon with his appearances in all the Marvel films. Not to mention, this cameo:
Danny Leiner
May 13, 1961 – October 18, 2018
(57)
You may not know the name, but you've seen his movies. There are two big ones: Dude, Where's My Car? and Harold and Kumar Go to White Castle. Careers were built on less.
Sondra Locke
May 28, 1944 – November 3, 2018
(74)
Sadly, all of her obituaries mention her primarily as the partner of Clint Eastwood, but she was a damn fine actress in her own right. She earned an Oscar nomination for her first film role, in The Heart Is a Lonely Hunter. After that, she appeared in Willard, The Outlaw Josey Wales, The Gauntlet, Every Which Way But Loose, Bronco Billy, Any Which Way You Can and Sudden Impact.
Bud Luckey
July 28, 1934 – February 24, 2018
(83)
Animator whose biggest contribution to history was the design for Woody in Toy Story.
John Mahoney
June 20, 1940 – February 4, 2018
(77)
Character actor best known to people as Martin Crane on Frasier. But he also appeared in films: Tin Men, Moonstruck, Eight Men Out, Barton Fink, In the Line of Fire, The Hudsucker Proxy, Reality Bytes, The American President, Primal Fear, Antz, The Iron Giant, Atlantis: The Lost Empire and Dan in Real Life.
Dorothy Malone
January 29, 1924 – January 19, 2018
(93!)
Oscar-winning actress. Her first major role is as the bookseller in The Big Sleep who flirts with Bogart. She then starred in Night and Day, Flaxy Martin, The Killer That Stalked New York, Pushover, Man of a Thousand Faces, The Tarnished Angels, Warlock, The Last Sunset, Beach Party, and Basic Instinct. She also starred for over 400 episodes on Peyton Place. Her most memorable role, though, is the one that won her an Oscar, as Marylee Hadley in Written on the Wind. She does one of the most famous dances in movie history, moving around her room as her father has a heart attack and dies on the stairs.
Jerry Maren
January 24, 1920 – May 24, 2018
(98!!)
He was the last of the remaining Munchkins. The last of the Wizard of Oz cast. He was the one in the Lollipop Guild who hands Dorothy the lollipop.
Terence Marsh
November 14, 1931 – January 9, 2018
(86!)
Production Designer with some amazing films on his resume. He won Oscars for Doctor Zhivago and Oliver!, and also worked on A Man for All Seasons, Scrooge, Mary Queen of Scots, A Touch of Glass, A Bridge Too Far, Magic, Absence of Malice, Spaceballs, The Hunt for Red October, Basic Instinct, Clear and Present Danger, The Green Mile, Rush Hour 2, and a little movie called The Shawshank Redemption.
Penny Marshall
October 15, 1943 – December 17, 2018
(75)
We lost a titan here. She started out as an actress and comedian, appearing on The Odd Couple and Happy Days, before spinning off into Laverne & Shirley, which ran for 178 episodes. She'd occasionally appear in movies (most memorably, for me at least, in Hocus Pocus). She directed her first film, Jumpin' Jack Flash, in 1986. She then directed some major, major films over the next decade. Her second film was Big, which helped her become the first woman ever to direct a movie that grossed $100 million at the box office and made a mega star out of Tom Hanks. She followed that up with Awakenings, which was nominated for Best Picture (the second Best Picture nominee directed by a woman). She then followed that up with one of my all time absolute favorite movies, A League of Their Own, which is just perfect on every level. To me, that's the pinnacle or her career. She followed that up with Renaissance Man, a movie that I love (which also began Mark Wahlberg's film career). She then directed The Preacher's Wife and then, five years later, Riding in Cars with Boys. Which remains the last film she directed, and I can't figure out why. Still, what she did direct has left a major mark on film history and will live forever.
John Morris
October 18, 1926 – January 25, 2018
(91!)
Film composer who worked on some of the great movies of all time: The Producers, The Twelve Chairs, Blazing Saddles, Young Frankenstein, Silent Movie, The In-Laws, The Elephant Man, History of the World Part I, Clue, Spaceballs and Dirty Dancing. He was nominated for Best Original Score for The Elephant Man, and also helped compose this wonderful tune:
Douglas Rain
March 13, 1928 – November 11 (2018)
(90!)
Actor who was primarily a stage actor, but provided his voice for one of the most memorable characters of all time:
Burt Reynolds
February 11, 1936 – September 6, 2018
(82)
One of the great movie stars of all time. Who doesn't know Burt Reynolds?
A former athlete who blew out his knee, ending a possible football career, he transitioned into movies, starting out in TV in the 50s, eventually getting his break with Navajo Joe in 1966. He followed that up with a series of westerns, 100 Rifles and Sam Whiskey. He starred in Sam Fuller's Shark, but eventually blew up after starring in John Boorman's Deliverance. Which still might be his best performance. He then went on to star in Everything You Always Wanted to Know About Sex * But Were Afraid to Ask, White Lightning, The Longest Yard, Lucky Lady, Silent Movie, Gator, Nickelodeon, Smokey and the Bandit, The End, Hooper, The Cannonball Run, The Best Little Whorehouse in Texas. Smokey and the Bandit in particular was so huge, and it made him (or kept him, really) as the biggest star in Hollywood. He also cohosted the Tonight Show and was just ubiquitous within the culture for twenty years. His career faltered in the 80s and 90s, but he managed a comeback with Boogie Nights, the role that he's most remembered by people under a certain age. He hated the film, but everyone loved him in it, and it earned him his only Oscar nomination. He then continued working all the way through this year, where he got his final starring role in The Last Movie Star, a fictional but weirdly autobiographical film that acts as a fitting curtain call on a brilliant career. Everyone knows the name Burt Reynolds, and man, did he leave behind a legacy that few people will ever match.
Nicolas Roeg
August 15, 1928 – November 23, 2018
(90!)
Director best known for his early films. His first film was Performance, which had a revolutionary style of editing and became one of the most important British films ever made. He followed that up with Walkabout, which has now also become a classic. His third film is probably his best (or most memorable), Don't Look Now, with Donald Sutherland and Julie Christie. And he followed that up with The Man Who Fell to Earth, with David Bowie. Hell of a run for his first four movies. Everything since has been less remembered than those first four, but most people don't get films as strong as those four.
Neil Simon
July 4, 1927 – August 26, 2018
(91!)
This is a big one. This man shaped comedy for a half a century.
He started out as a playwright (and continued to be one), but eventually segued straight into screenwriting, and is responsible for some of the most memorable comedies of all time.
The first of his plays he adapted was After the Fox, with Peter Sellers. He then followed it up with Barefoot in the Park, which starred Jane Fonda and Robert Redford. His third script (and the play on which it was based) is still the prototype for a buddy comedy, and is pretty much synonymous with the genre: The Odd Couple. As a movie and a show (and now back on Broadway), it's been memorable and beloved all the way through. The movie stars Walter Matthau and Jack Lemmon and is still one of the funniest films ever made.
Other scripts he wrote (most based on plays of his): Sweet Charity, The Out of Towners, Plaza Suite, The Heartbreak Kid, The Sunshine Boys — how about The Sunshine Boys? Also one of the funniest movies ever made. Walter Matthau and George Burns. Absolutely genius. He also write Murder by Death, which is one of my absolute favorite comedies of all time. It became the template for the movie Clue, but was basically just a farce on all the fictional detectives (Charlie Chan, Hercule Poirot, Miss Marple, Nick and Nora Charles and Sam Spade). He then followed it up with The Cheap Detective, a spoof on the Bogart detective movies of the 40s. Both are hilarious.
Oh, and then there's The Goodbye Girl, another classic. California Suite, Chapter Two, Only When I Laugh, Biloxi Blues… this man is a legitimate national treasure. His footprints are on all comedy from the 60s, 70s, 80s and 90s. Some people find his stuff a bit dated, but you have to understand — it looks dated because everyone has since copied it a thousand times over. It's like when people go back and watch Jerry Maguire and go, "Oh my god, that scene at the end is so cheesy and cliche." And you have to tell them — that CREATED THE CLICHE. That's what they all were copying.
If I can stress anything to you about Neil Simon and the genius he was — watch The Odd Couple. Watch The Sunshine Boys. Watch Murder by Death and The Cheap Detective. Watch The Goodbye Girl. This man has written some of the best plays and movies of the 20th century, and losing him (albeit at a nice old age) is a big loss and leaves a lot of blank pages.
David Ogden Stiers
October 31, 1942 – March 3, 2018
(75)
Actor who, in the early part of his career appeared in Oh, God!, The Cheap Detective, Magic, Better Off Dead, The Accidental Tourist, Shadows and Fog, Mighty Aphrodite, Everyone Says I Love You and Jungle 2 Jungle (that masterpiece). On TV, he was best known as Major Charles Winchester on MASH. But for most of us, it was his animated voiceover work that sticks out. He was the voice of Cogsworth in Beauty and the Beast, and then Governor Ratcliffe in Pocahontas. And then he was the Archdeacon in Hunchback of Notre Dame. And then later he was Mr. Harcourt in Atlantis: The Lost Empire and Jumba in Lilo & Stitch. It's crazy to think that at least three generations of people all know him and from completely different things.
Isao Takahata
October 29, 1935 – April 5, 2018
(82)
Animation director. He's made some real masterpieces that rival Miyazaki's output. The biggest of them is Grave of the Fireflies. And he also made Only Yesterday, Pom Poko and My Neighbors the Yamadas. His final film was the incredible The Tale of the Princess Kaguya. I know people watching non-English animation is sacrilege, and the most people ever do is watch Miyazaki stuff (maybe), but if you're gonna branch out, this man's films are definitely a good place to start.
Ronnie Taylor
October 27, 1924 – August 3, 2018
(93!)
First a camera operator, who worked in movies like Room at the Top, Home Is the Hero, The Innocents, Oh! What a Lovely War, Phantom of the Paradise, Barry Lyndon, and a little film called Star Wars. He then went on to become a cinematographer, and shot A Chorus Line, Cry Freedom and Sea of Love. His two biggest efforts though, are Gandhi, for which he won an Oscar, and, more importantly to me, Tommy.
Verne Troyer
January 1, 1969 – April 21, 2018
(49)
Mini-Me. That's forever what he will be known for. He appeared in other things — Jingle All the Way, Men in Black, Fear and Loathing, Mighty Joe Young, How the Grinch Stole Christmas and Harry Potter and the Sorcerer's Stone (he played Griphook, who shows Harry to his vault) — but he'll always be known for Mini-Me.
Hugh Wilson
August 24, 1943 – January 14, 2018
(74)
He directed Police Academy. That alone makes him worthy of this list. But on top of that, he directed Rustler's Rhapsody, Guarding Tess, The First Wives Club, Blast from the Past and Dudley Do-Right. He also created WKRP in Cincinnati.
Tom Wolfe
March 2, 1930 – May 14, 2018
(88!)
Mostly a journalist who also wrote novels, but he left an indelible mark on film by writing The Right Stuff, which became an al-time classic once they adapted it into a film. His articles also were the basis for The Last American Hero, and of course, his Bonfire of the Vanities became one of the more infamous films of the past thirty years.
Craig Zadan
April 15, 1949 – August 20, 2018
(69)
Producer. He's produced a couple of Oscar ceremonies and was best known for producing musicals. Chicago, Hairspray, the Footloose remake. He also produced The Bucket List, and most recently, worked on all those live musicals, like Peter Pan, The Wiz, Hairspray and Jesus Christ Superstar.
– – – – – – – – – – –
One response