2020: The Year in Reviews (December)
No matter how strange the year is, we still gotta do the thing. You know how it works: in January I preview and guess ratings for a bunch of movies, then most of them come out over the course of the year, and then we recap it all in December. This year will be no different, though admittedly it's a much thinner year to review than I'm used to. But, we can only review what comes out.
It started as a game for me to see how well I could guess stuff, but really, like most things on this site, it becomes a vehicle to try to get people to watch stuff. The tallying part is just for me to make it interesting. Mostly I'm just trying to tell you about all the cool stuff I saw this year.
Today we go over December.
December
Mank
January's preview:
"4.5 stars. Fincher alone leads me to 4.5. But you're giving me Gary Oldman and black-and-white? Fuck yeah."
The review:
"There was little doubt that I was gonna love this movie."
"This was a movie that was tailored for me to really like it. And I really liked it."
"Of course, I need to see it again over the next two weeks so I can really formulate my opinion on it. But for now, let's just say that this is, very unsurprisingly, one of my favorite films of the year. Which is a pretty safe bet for anything David Fincher makes anyway."
* * * * ½ (4.5 stars)
Final thoughts:
That review just about covers it. I'll let you know in a few days.
* * * * ½ (4.5 stars)
How close was I?: Exact.
Nomadland
January's preview:
"I mean, okay."
"3 stars. Hope I get 3.5 out of this."
The review:
This was pretty wonderful. I'm not necessarily on board with automatically labeling this the masterpiece of 2020 like some people are doing, but I'm also not ready to put it in that category of getting upset that people are saying it. I think it's lovely, and I like it enough to not push back when people overhype it (it's not a First Cow situation). I think it's a great look into a large subsection of the population that no one ever talks about. It took me a bit to settle in, but once I did, it just became comfortable. It never tried to be anything more than it was, and it told its story really well. After not seeing what the fuss was about The Rider, I can see what the fuss is about this. It's quite good.
* * * ½ (3.5 stars)
Final thoughts:
I got my 3.5 out of this.
* * * ½ (3.5 stars)
How close was I?: Off by a half-star.
I'm Your Woman
January's preview:
"I'll say 3.5 stars and think positive. Why not."
The review:
"Interesting revisionist crime film."
"You know the wife figure in all those gangster movies, who's always in the dark about what's really going on and usually told very suddenly that she has to take the baby and get out of town? Well this is an entire film about that character."
"I like that it doesn't try to get too big and really puts you in this woman's shoes."
"And you never really do get any information, because this movie exists completely on the margins of all those other movies."
"I like that they don't try to speed up the narrative or do anything excessive with set pieces. It's really grounded and quite wonderful."
"I'm certain that not everyone will get this, but consider me a huge fan of this movie."
* * * ½ (3.5 stars)
Final thoughts:
I loved this.
* * * ½ (3.5 stars)
How close was I?: Exact.
Love, Weddings & Other Disasters
January's preview:
"I was about to joke that Diane Keaton was in it because she's always in family wedding movies, but Diane Keaton IS IN THE FUCKING MOVIE."
"Holy shit. It's like Rachel McAdams and time traveler movies where she gets the play the wife."
"2.5 stars."
The review:
"Is there a law that we don't know about that mandates that Diane Keaton be in all these ensemble wedding movies?"
"Honestly, if they made an ensemble wedding movie about a woman marrying a time traveler, Diane Keaton and Rachel McAdams would be in it before you even finished the script."
"This was directed by the auteur who gave us such films as I Now Pronounce You Chuck and Larry, Jack and Jill, Grown Ups and You Don't Mess with the Zohan. So I think you understand what kind of movie we're dealing with here (Oscars)."
"It's just generic. It's literally like every other one of those movies. Those New Year's, Valentine's ensemble movies… all of that shit, rolled into one."
"I think we may want to look into why Diane Keaton seems to be in all of them. Maybe we all agreed to it when we accepted all those user agreements without reading them?"
* * ½ (2.5 stars)
Final thoughts:
Though honestly, why am I not writing a script about a time traveler who needs to get back on time for his wedding, with Rachel McAdams as the wife and Diane Keaton as his mother/mother-in-law? There's actually a movie there to be had. And one that I know would be better than this one.
* * ½ (2.5 stars)
How close was I?: Exact.
Black Bear
January's preview:
"Seems to be a psychological drama with some sort of twist in it that fucks with the audience and keeps you guessing. That means it could be smart and fun or really tedious."
"Any time there's a psychological drama with a creative person, you almost roll your eyes when either it's something they're working on or it becomes something they write from the experience to get over their writer's block."
"No way of knowing now what it's gonna be, so I guess 3 stars is the guess."
The review:
"Yup."
"It's trying to be a mind fuck of a movie. I'm not sure it ever achieves that, but I'll give it credit for trying."
"I like all three actors. I just wasn't sure why I was supposed to care during the first part."
"Then the movie took that turn and I thought, 'Okay, sure'."
"This strikes me as one of those 'aspirational' movies. Which is to say — there's always a handful of movies every year that you see on a lot of people's top ten lists, yet (for me at least) whenever I ask people why that is, they can never really ever say just why they loved it or why they think it's any good. And a lot of that, I've found, is because the more… pretentious wing of filmdom jumped all over it because it has a more obscure, esoteric structure and presents itself as having a lot of grand ideas (when in reality it might not have any), and those people have decided they feel that way too because they feel like it makes them look cool and informed."
"And let me say — there's absolutely nothing wrong with being that person and feeling that way. All I'm saying is, I've done this for a lot of years now, I've seen a lot of people and how they react to things, and I have become very good at pinpointing certain things that give me red flags. And this feels like one of those movies. I can tell a lot about a person when I see something like this on their top ten list, especially when I see the other nine that are around it."
"This really wasn't a statement against the movie in any way, just something I felt was worth mentioning, since we are getting to that time when you're gonna start to see stuff like that happen. And maybe you yourself are in that situation now, as you try to figure out what you liked best from this year. And so I'll just say this — I thought it was fine, I didn't think it was anything overly special. To each their own. Love it if you think it's great, don't feel the need to say you loved it just because certain people think it's amazing and, rather than admit that you didn't see that or understand whatever it is they saw, you simply agreed with them. That's really my point there."
"Anyway, I guess what I'm saying is, congratulations on the Independent Spirit Award nomination, Aubrey Plaza."
* * * (3 stars)
Final thoughts:
Instances like this are why I do these articles. Being about to put my thoughts from January and my actual thoughts together and have them be so perfectly in sync that it becomes funny.
I also completely stand by my feelings about this being one of those movies that I will use as a pretension barometer for people on their year-end lists. Not as much as First Cow, but close.
Also, I hope that when Aubrey Plaza gets her inevitable Independent Spirit Award nomination for Best Actress, you think about me and laugh.
* * * (3 stars)
How close was I?: Exact.
Elyse
January's preview:
"Thinking 2.5 stars. It feels like a movie I see for an actor that they only did for someone else, and it's not really that good overall."
The review:
"It just reeks of a bad movie."
* * ½ (2.5 stars)
Final thoughts:
I did not like this.
* * ½ (2.5 stars)
How close was I?: Exact.
A Christmas Carol
January's preview:
"It's hard to fuck up A Christmas Carol."
"3 stars."
The review:
"I liked it. I liked the idea of it. It was a nice way to tell a story we've seen at least a dozen different times on screen by this point."
* * * (3 stars)
Final thoughts:
It was amusing.
* * * (3 stars)
How close was I?: Exact.
Godmothered
January's preview:
"Disney+ movie."
"2.5 stars."
The review:
"Basically an Enchanted/Elf ripoff for Disney+."
"It's dumb, obvious and generic all the way, yet has enough moments of charm that I went 3 instead of 2.5."
"It's not a good movie though. You know exactly what it's doing and what it's going to do and the question is how much you're okay with it. I was okay with it enough, apparently, though I'm very okay never seeing this again."
* * * (3 stars)
Final thoughts:
Sometimes I'm more forgiving than I ought to be.
* * * (3 stars)
How close was I?: Off by a half-star.
Small Axe: Alex Wheatle
January's preview:
None.
The review:
"It, like all the films in this miniseries, is really solid."
* * * ½ (3.5 stars)
Final thoughts:
The Small Axe films are, as a whole, among the best films of 2020. Watch them all.
* * * ½ (3.5 stars)
How close was I?: N/A
The Godfather Coda: The Death of Michael Corleone
January's preview:
None.
The review:
"I feel like everyone toes that 'company' line of 'Part III is a terrible movie'. And I feel like most people either never actually saw Part III or ever really gave it a fair shot because it was just easier and more fun to shit on it. Because sure, it's not the first two. But also… it's not trying to be the first two."
"his recut is shorter, some scenes are altered, namely the opening, and it gives the movie a focus it didn't have before."
"You understand all the pieces better here rather than, in the original, not really being sure what's happening and thinking how it's not as good as the first two."
"I'll also say — this cut is not that different from the original cut. Which is the film's dirty secret — it was always really good."
"This isn't the bastard stepchild of the franchise the way some films are. This more like… I don't know… Die Hard 2. Is it the first one you throw on? No. You watch the original, and then you probably watch with a Vengeance because it's fun and has Samuel L. Jackson. This is like 2. It's lesser, and we acknowledge that, but it's all there, for the most part."
"My point here is: it's a really good movie and was always a really good movie, and to Coppola's credit (and he's three for three on these recuts now), he made it a more driving plot than it was before, which actually does enhance the film."
* * * * ½ (4.5 stars)
Final thoughts:
It always was a good movie and this just made it easier to see that.
* * * * ½ (4.5 stars)
How close was I?: N/A
Let Them All Talk
January's preview:
"I trust Soderbergh, so 3.5 stars."
The review:
"I love that Soderbergh keeps trying various exercises and always looks to do something different."
"I like the idea of having people improvise scenes, but you realize watching something like this just how much 99% of actors really do need something to be on the page. Because left to their own devices, there's a lot of 'ums' and 'ers' and face touching and trying to carry a scene like a piece of driftwood in the ocean."
"It's not so bad most of the time, but you can tell that there's nothing driving each of the scenes and that some actors handle that better than others."
"I liked it. I like that he made it. I liked watching it. I wish it had more of a script, but I understand, exercise-wise, why it didn't."
"Overall, solid piece of work that I've come to expect out of Soderbergh every time he makes a film."
* * * ½ (3.5 stars)
Final thoughts:
It's the usual Soderbergh solid and is a success as an experiment, even though I'm not really sure it adds up to all that much.
* * * ½ (3.5 stars)
How close was I?: Exact.
The Prom
January's preview:
"3.5 stars. Musical, that cast. Have to. Hope he pulls it off."
The review:
"This was charming. Sure, some of the directorial choices were questionable and the editing was extremely choppy. But it was colorful (which so few films are anymore), fun and has a positive message."
"It's a mixed bag, but I ended on liking it."
* * * ½ (3.5 stars)
Final thoughts:
I never need to see this again, but I'm fine with the 3.5 for this one time.
* * * ½ (3.5 stars)
How close was I?: Exact.
Wolfwalkers
January's preview:
"This is by Tomm Moore, who did Secret of Kells and Song of the Sea, so on that alone, 3.5 stars. Should be great."
The review:
"Another stunning piece of animation from Tom Moore."
"It's absolutely beautiful, and might be Moore's best film."
"Though I say that about each one I see, so I'm sure it's the best because it's the most recent I've seen."
* * * * (4 stars)
Final thoughts:
It's one of the best films of the year.
* * * * (4 stars)
How close was I?: Off by a half-star.
Wild Mountain Thyme
January's preview:
"3.5 stars."
"I'm so fucking in on this."
The review:
"There's a great story about Orson Welles and John Ford. Welles was never shy about his love for Ford, and when asked who his favorite directors were, he said, 'I like the old masters. John Ford, John Ford and John Ford'… And later on, when Welles was in his emeritus 'interview' stage of his life, he was extolling Ford's talents as a director and said that when you watch Ford's films, you really get a sense of what the world is like, 'even when the script is by Mother Machree'. (Ford apparently heard that and sent him a note that said, 'Thanks for the compliment. Signed Mother Machree.')"
"The point is — this film… it's not The Quiet Man."
"And I get it. It's not proper Irish. It's facsimile. It's sentimental and has all the usual trappings of a movie like this. But you know what? I enjoyed it. It was charming. Sometimes it doesn't matter if a movie is good so much as whether or not it makes you feel good."
"(I've also deliberately ignored the one absolutely insane thing this movie does in its third act. That's best experienced for yourself. To me, something that crazy only helps the film. Because who gives a shit? Now at least I'll remember it for whatever the hell that is.)"
* * * ½ (3.5 stars)
Final thoughts:
I did enjoy this, even with… I'm struggling so hard to not say it… that third act 'revelation', I guess is the best term? It has absolutely no bearing on the story and yet is there. And honestly, I'm treating it like the gay sex scene Damon and Affleck wrote into the Good Will Hunting script. I believe it's only there just to make sure you're watching.
* * * ½ (3.5 stars)
How close was I?: Exact.
Minari
January's preview:
"3.5 stars."
The review:
"This is the movie Hillbilly Elegy wishes it was."
"It's literally the same movie but better. And somehow more American, even though almost the entire movie is in Korean."
"I loved that it never tried to be anything more than it is, and in a year that doesn't have a whole lot that felt really good, this one feels really good."
* * * * (4 stars)
Final thoughts:
I did really like this.
* * * * (4 stars)
How close was I?: Off by a half-star.
Safety
January's preview:
"Seems pretty standard fare. 3 stars."
The review:
"While falling into all the traps and containing a lot of bad writing and borderline bad acting, (it) is at least watchable and has some nice moments even if they are manipulative as hell."
"And I'll say this — the opening Disney logo, where they use the 'When You Wish Upon a Star' music but drop in a drumline beat underneath it from a school marching band — that's better than anything in the entire movie. That shit is great."
* * * (3 stars)
Final thoughts:
That drum beat is amazing, though.
* * * (3 stars)
How close was I?: Exact.
The Stand-In
January's preview:
"3 stars? I guess? Maybe 2.5, but it should be one or the other."
The review:
"This movie is All About Eve if it were made by Adam Sandler."
"I guess I'll put it this way — if the Unforgivables list weren't retired, this would've been on it."
"It's unwatchable. I barely got through this and do not recommend that anyone waste their time seeing this."
* * ½ (2.5 stars)
Final thoughts:
No.
* * ½ (2.5 stars)
How close was I?: Off by a half-star.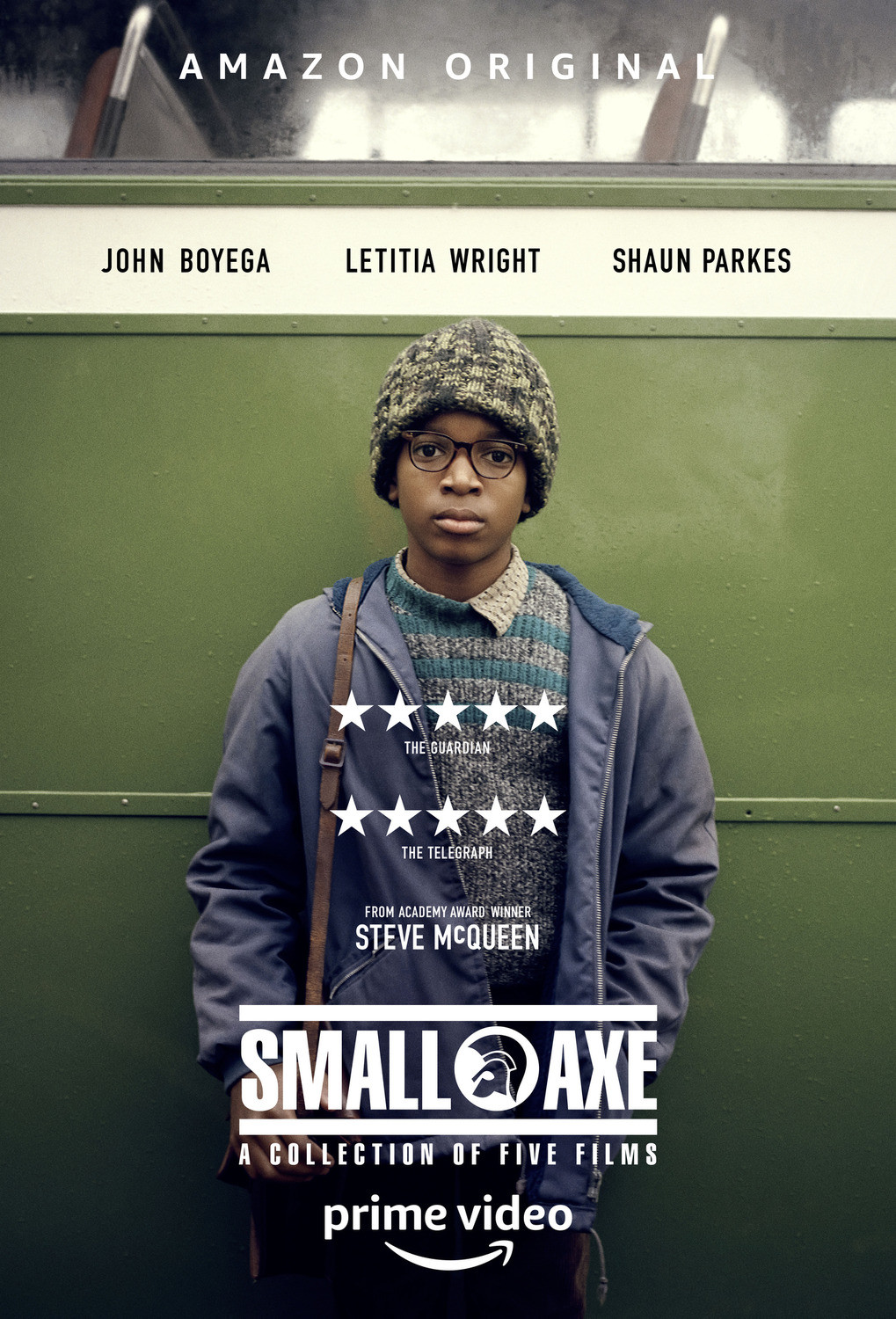 Small Axe: Education
January's preview:
None.
The review:
"That's what I love about Steve McQueen as a filmmaker. He gives you these stunning moments that speak volumes about race and class without ever verbalizing it."
"It's so great. I cannot say enough great things about this entire series of films. I'm glad they're on Prime for everyone to see, because they're some of the most important work to come out this year."
* * * ½ (3.5 stars)
Final thoughts:
WATCH THESE DAMN MOVIES ALREADY.
* * * ½ (3.5 stars)
How close was I?: N/A
A California Christmas
January's preview:
None.
The review:
"Another Hallmark-level Netflix holiday rom com."
"It's terrible. Most of them are terrible. This isn't my genre, and these films bore me out of my mind. That about covers it."
* * ½ (2.5 stars)
Final thoughts:
You always know how I'm gonna react to these.
* * ½ (2.5 stars)
How close was I?: N/A
Ma Rainey's Black Bottom
January's preview:
"I'm in."
"3.5 stars."
The review:
It's an adaptation of August Wilson's play, and it takes place almost entirely in a recording studio. As such, it's very stagy. They do a little singing montage over the opening credits and have a brief moment in a hotel lobby and one just outside the studio, but otherwise the film takes place entirely in the one location. So it's focused on the performances. And they're very good. Specifically Chadwick Boseman. I knew they were gonna push hard for him in this one just because it was his final performance, but he's really good here. I thought I was gonna have to be the one to say, "Calm down" to all the people rushing to nominate him. But I won't have to, and that's nice. Viola Davis is solid as Ma, but it's basically a supporting part. She can do that in her sleep, and she's fine as she always is. Otherwise, the supporting cast who play the band are very good and it's just a good movie. Like Fences. Just solid all around.
* * * ½ (3.5 stars)
Final thoughts:
Good film, good performances.
* * * ½ (3.5 stars)
How close was I?: Exact.
Breach
January's preview:
"2.5 stars."
The review:
It's just shitty Alien meets a zombie movie. And Bruce Willis just phoning it in, yet again. I really don't know why he bothers, when the products are this bad.
* * ½ (2.5 stars)
Final thoughts:
In space, no one can hear you cash a paycheck.
* * ½ (2.5 stars)
How close was I?: Exact.
Greenland
January's preview:
"3 stars."
"I'll watch the hell out of this."
The review:
"What an insane idea for a movie in 2020."
"Or 2010. Pretty much any time outside of the 90s would this be a bad idea."
"On the one hand, I like the idea that it focuses on the panic before a confirmed disaster happens and everyone's rushing to try to become one of the 'chosen' people who get to be taken to safety of underground bunkers. But on the other — is this what we really needed during a global pandemic?"
"Plus, while it's everything you'd expect it would be (perfectly watchable, completely inconsequential), it literally ends with the confirmed deaths of tens or hundreds of millions of people. And the happy ending is, 'Hey, this one family got to safety with a bunch of people and now they get to come out of their bunker to a scorched earth and almost everyone else in the world dead!' Seriously, what a weird fucking idea for a movie."
* * * (3 stars)
Final thoughts:
Movies about massive global deaths hit differently in 2020.
* * * (3 stars)
How close was I?: Exact.
Fatale
January's preview:
"The director typically makes generic thrillers, so it's either gonna be 2.5 stars or 3 stars."
"So let's say 2.5 stars and let it earn its keep."
The review:
Generic movie just like all the others of its ilk. It's not my genre.
* * ½ (2.5 stars)
Final thoughts:
You could telegraph this one all the way.
* * ½ (2.5 stars)
How close was I?: Exact.
Another Round
January's preview:
None.
The review:
The premise alone makes me so happy: a bunch of teachers, faced with indifference by their students and boredom in their lives, decide to try an experiment where they'd keep their blood-alcohol content at a certain level at all times to see if it makes them happier. So it's basically a bunch of people deciding to get drunk for science. Which is exactly my type of movie. Not to mention, it's one of the few films that actually makes use of Mads Mikkelsen's background as a trained dancer. And folks, let me tell you something — you haven't lived if you haven't seen Mads Mikkelsen drunk and dancing on a pier. TRUST ME on that.
* * * ½ (3.5 stars)
Final thoughts:
Really enjoyed this.
* * * ½ (3.5 stars)
How close was I?: N/A
The Midnight Sky
January's preview:
"Sounds awesome."
"4 stars."
The review:
I'll start with — I quite enjoyed this. But I will say… could've used about 20-25 more minutes. More time with Clooney by himself in isolation. More time with him and the girl. More time learning about the astronauts as people. Character stuff. And I feel that's what's most getting lost in today's realm of big budget cinema. You lose time to characterize people in pursuit of faster pacing to keep with people's ever-shrinking attention spans. The whole film felt like it cut out a bunch of good stuff. And while there was a bunch of good stuff to be had, I can't help but feel like they sacrificed a great movie to try to please more people. But, it's still a very good movie, so I'll take what I can get.
* * * * (4 stars)
Final thoughts:
Seriously, though, bring back room for movies to breathe and for character stuff to just happen within its own time rather than within the 12 seconds between set pieces.
* * * * (4 stars)
How close was I?: Exact.
Wonder Woman 1984
January's preview:
"There's nothing that makes me think they can pull this off, but also, I'm not sure if I give up on Patty Jenkins on the first sequel."
"I'll say 3.5 stars. I think that technically counts as a sequel drop, since I think I rated the first one 4 stars."
"The first one was really only a 3.5 star movie that I went 4 stars on. So I feel like there's gonna be a drop, but as much as I assume that because it's DC and 3 stars should happen, something's telling me to give them a slight benefit of the doubt and stay 3.5."
"We'll see if it's the standard 'sequel's not as good but it's fine', or if they just fucked it up and DC is the shit hole we expected it to be based on all those other movies."
The review:
Oh boy. This was quite the mess. But, I'm not surprised, since it's DC, and literally every movie DC has put out, save maybe two, are unqualified disasters. The first Wonder Woman was an okay film with some amazing moments in it that made you forget how so-so the rest of the film was. And, grading on the curve of the rest of the shit DC had to offer, that was fine. And Birds of Prey felt like it was pretty good as well. Everything else? Awful. And, going into this — knowing Geoff Johns was writing along with Patty Jenkins and knowing the male-dominated execs at Warners and DC would never let the women keep full control of this franchise, I knew what to expect with this. And guess what? DC fucked it up yet again. Don't get me wrong, it's perfectly amusing and entertaining if you're just sitting down to watch it. But holy shit is it a bad movie. First off? Why is it two and a half hours? It's so fucking bloated and so much doesn't need to be there. The opening sequence for one. Serves zero purpose within the plot whatsoever. And any thematic tie in it was supposed to have with the end of the movie just isn't there. What's the message? Cheating/shortcuts are bad? Not worth the amount of time we spent there, and literally just an excuse to put the island back in the movie and get Connie Nielsen and Robin Wright some screen time. Otherwise zero purpose whatsoever and extra screen time on an already bloated film. If you made it work better with the ending, I could be okay with it. But, they didn't, so I'm not. Also, Kristen Wiig — didn't need to be in this movie. Literally didn't need to be there. I get it. But also too much screen time and no purpose within the plot. You could have just had Pascal's storyline and him getting more powerful while she's palling around with Pine and slowly losing her powers without realizing it, ultimately leading to the moment where she has to make her choice. Here, she's just bouncing from one thing to another and nothing ever gels to the point where you care about anything going on. Plus, Wiig has the same villain storyline we've seen in so many of these (not so great) movies. Remember Jamie Foxx as Electro? Same thing. What's his name as Venom? Same thing. There's nothing interesting or surprising there. So you don't really need it. Also, Chris Pine. ZERO purpose in this movie. He should serve a purpose, but you don't get any payoffs with Diana as a character, so his appearance amounts to, "Wow, look at all this stuff that's happened since I died," and, "These 80s sure are weird, huh?!" She gets to fuck him. That's something. But she's really fucking the other dude, so not really. That emotional thread only goes so far when you don't really care all that much. The reason the first one worked is because they had chemistry and the writing made you care about her. Here, it's just the chemistry, and that only goes so far. Also, that moment where he goes away — literally the movie with 30 minutes left going, "Okay, that's done, time for the CGI now!" They should have cut Kristen Wiig's character out of the movie or at the very least not made her a super villain this time, then keep just the Pascal thing and had the climax be her (with his help) getting to him, and then finally having to make the choice of losing him (again – this time of her own doing instead of his self-sacrifice) in order to stop Pascal. And then tease Wiig as still having her powers for whatever reason for the next one if you want. Go nuts. Couldn't be worse than what you did. Also, if you cut the extra stuff, you have more time to build up the fact that, you know… her choice actually has consequences! Here, they just sort of tell you and then you get her crying and running in that weird way. It's unfathomable bad storytelling that clearly is the result of Patty Jenkins trying to make an unabashedly 80s movie and the studio forcing all this bullshit onto it to meet a price range. And I assumed they were setting up all that stuff with Pascal's son for the next movie, but apparently not. Apparently he just gets to walk away and everyone just sort of forgets that the world was at the brink of annihilation ten minutes ago? Not really sure how the logic in any of that works, but that often happens in bad movies.
Other things that made me mad here — how can the make an entire movie where Pedro Pascal's character is CLEARLY on cocaine for the entire thing and yet never once overtly mention cocaine? It's set in the 80s! Don't fucking call them 'vitamins' and not show it. Fuck you and your family friendly bullshit. Kristen Wiig as an Apex Jellicle is scarier than seeing someone do cocaine. That CGI cat creature whatever-the-fuck was horrifying. (Did you not think that was gonna be a problem, post-Cats? Because that's all it looked like. And she did, technically, make a Jellicle Choice at the beginning of the film.) I hope, for Kristen Wiig's sake, they CGI'd all of that and didn't make her show up on set in whatever the hell costume that was.
Other quick things that annoyed me in this —  the scene where she flies? Blatantly reused the score from Sunshine which so many things do (namely Kick-Ass. But also a shit ton of commercials and trailers over the past dozen years). Remember how great the score was during the No Man's Land sequence? How about you write your own goddamn score for that moment instead of stealing one people like me will immediately recognize? Also, should I bother to ask how electricity works in that third act? Apparently that armor, which is super made of metal (not to mention held off all these hundreds of warriors in the past but now is discarded like it's nothing after one Super Jellicle, or one Cat Lady, as you prefer, scratches it) just… doesn't conduct electricity?
Oh, and we have to get to the ending. I was texting with people while watching and went, "Oh my god, this monologue is RIDICULOUS." Because it felt like pure reshoot stuff. And you can sort of tell some of this got reshot in COVID times because of how often it feels like they cut close to Gal Gadot by herself in these weird, out of place close ups. And that monologue is basically her whispering, yet in a room with a giant fucking hurricane going on and Pedro Pascal shouting. Not to mention, apparently the whole world still manages to hear her during all this? And then, even as she was saying it, I'm thinking, "Is she trying to unite the whole world? IS THERE GONNA BE AN IMAGINE VIDEO AT THE END???!!!" And then there was! The ending to this movie was literally the same as that stupid fucking Imagine video they did (on like day four of quarantine, too. Which is hilarious), and that's probably the best punch line we could have ever gotten to this.
I also am not sure why we needed to see everyone renouncing wishes (because clearly not everyone was gonna do that. And the belief that it would… while I get that it would happen in an actual 80s movie… grow up). Wouldn't Pascal renouncing his be enough to undo everything else? Or was it just about audience manipulation at that point?
I'm still not even gonna bother wondering why everyone in the world isn't like, "Remember when all that shit happened for like a week in the 80s?" Because that's the response I'm gonna have with this? "Remember when they fucked up the one good thing they had going in this god-forsaken DC universe?"
And they brought Lynda Carter into it with the most ham-fisted mid-credits sequence ever. God help them if they try to bring her into the third one as a main character (though the more likely options are to never mention it again and leave it as a wink to the fans or fold it into whatever bullshit they're trying with that Flash movie).
This movie was so bad, multiple people said to me that the DC executives should just quit. And honestly — depending on how that Justice League investigation goes… they might get their wish (even though I honestly know better than to assume the mediocre white dudes running the studio who permitted bad behavior and are covering it up won't get to continue running that same studio).
And yes, in case you couldn't tell, that review was a pseudo-Unforgivables article on this movie, because that's how angry it made me.
* * * ½ (3.5 stars)
Final thoughts:
I'm still giving it 3.5 stars though. Because you can be entertained by something while simultaneously being pissed off by how bad it is and never needing to see it again.
* * * ½ (3.5 stars)
How close was I?: Exact.
Promising Young Woman
January's preview:
"Looks fun as hell."
"There's not nearly enough Carey Mulligan on the screen, but when there is, she's always really good."
"3.5 stars."
The review:
Oh boy, was this something. I… I think I'm gonna need a minute on this one. Because holy shit, was this an experience. This is a real difficult one for audiences, and I can't wait to see how they respond to it. This is quite the swing from a first time director and I am thrilled with the outcome. I really want to see this again, and soon, because wow.
(And yes, I know my words are slight here, but I like to have time to sit and think about stuff before I write these things, and this year just isn't affording me that. So we're all just making due with what we can.)
* * * ½ (3.5 stars)
Final thoughts:
Big fan of this one.
* * * ½ (3.5 stars)
How close was I?: Exact.
News of the World
January's preview:
"4.5 stars. I know I'm overdoing it, but IT'S A WESTERN. WITH TOM HANKS."
"I'm so fucking in on this. Bring it on."
The review:
I was in from the jump, and I was pretty much always gonna love this movie. But specifically why I loved it, apart from it being a western with Tom Hanks, is the fact that it's also talking about the existence of a storyteller. And how important it is that we sometimes need to escape our lives with stories and how important it is to have someone who can translate things into a different form that can be widely accessible to those who might not normally be able to see it. And yes, saying those words I understand how 'Hollywood jerking itself off' that sounds. But apart from that (because yes, obviously that's in play here), I do think it's very admirably handled here. I'm still formulating my thoughts on this. I haven't had time to sit with this yet. So give me a few minutes to really think about this one before I really feel like talking about it.
* * * * ½ (4.5 stars)
Final thoughts:
Put it this way — comparatively, it's no Hillbilly Elegy.
* * * * ½ (4.5 stars)
How close was I?: Exact.
Sylvie's Love
January's preview:
"3 stars. Hope it's great."
The review:
I loved this. This is the movie black women didn't get to make in the 50s. It's beautiful. A throwback melodrama complete with frame story and studio backlots. The story is exactly what you'd expect from a movie like this, but all of those movies were exactly like you'd expect. It's not about the story. It's about the way it's performed. And here, it's performed beautifully. It looks gorgeous, it's perfectly updated to include topics they couldn't have talked about in the 50s. If you liked Far from Heaven, you'll like this. And while Far from Heaven was a pastiche of Douglas Sirk, this is a pastiche of an entire genre. The kind of genre black filmmakers and actors never got to be in at that time. Not in the lead roles, at least. And for that alone, this is one of the best and most exciting movies to come out this year. I could not be more in love with this movie.
* * * ½ (3.5 stars)
Final thoughts:
Please see this. Especially if you like classical Hollywood films. The sets alone are worth your time, and everything else just makes it that much more incredible.
* * * ½ (3.5 stars)
How close was I?: Off by a half-star.
Soul
January's preview:
"It's Pixar, and it's Pete Docter."
"4 stars automatically because of that."
"I'm hopeful we can get something on the level of those other three Docter films (Monsters Inc, Up, Inside Out), but even if it can just hit a solid 4 stars, I'll be happy."
The review:
I'm still formulating my thoughts on this, and I think the short version is just — I loved it. There are some short term quibbles I can have with this one, mainly with how the first Black Pixar character spends the majority of the film dead or… well, if you saw the film, you know what I mean. I won't spoil it. You can have problems with that. I think I'm gonna take the long view on this one and look at the complexity of the message it's trying to get across (and this isn't Zootopia's 'racism is bad'. This one's much more meditative on life and existence and what makes a life worth living) and the absolute breathtakingly great visual storytelling going on in this. To me, that's the stuff that lasts. And yes, while I think they could have done better in certain ways, I think the themes of this movie and the effect it will have on children to (hopefully) learn to enjoy their existence and never take it for granted, will outlive any of those critiques. For now, let's just leave it as, I loved this movie.
* * * * ½ (4.5 stars)
Final thoughts:
I'll have those by Thursday.
* * * * ½ (4.5 stars)
How close was I?: Off by a half-star.
One Night in Miami
January's preview:
None.
The review:
I tend to shy away from movies that deal with fictional accounts of famous people, unless they're straight biopics. And even then, sometimes I have my limits in terms of seeing them portrayed. Just because they sometimes fall to parody based on the public image of the figures rather than trying to delve into character. So the idea that this was about a fictional meeting between Malcolm X, Muhammad Ali, Jim Brown and Sam Cooke… I got nervous. I like Regina King, but as a directorial debut, it was a tough thing to tackle. I've seen enough movies like this and read enough scripts like this where it just feels phony when they bring in the life events and famous works and things like that. And while I had some concerns in those opening scenes, they settled down pretty quick once we got to the Jim Brown one with Beau Bridges (though for the life of me, I couldn't tell you why he went there or why that scene exists other than for that end moment). And for the most part, I found myself able to focus on the story. I guess because it's based on a play (by Kemp Powers, who also co-wrote and directed Soul this year as well) is what kept me grounded. Though, it being fictional, I'm not really sure what we got out of it other than this cool meeting between four really awesome people. Still, it was an engaging film well told and one that, despite being a literal play on screen and by definition stagey… felt cinematic enough to work. So kudos on that, Regina King. Overall, probably not the movie they're touting it as for awards purposes, but still a solid film and a really nice debut for King as a director.
* * * ½ (3.5 stars)
Final thoughts:
I'm a fan of this and curious to see how everyone else actually views this once they see it.
* * * ½ (3.5 stars)
How close was I?: N/A
We Can Be Heroes
January's preview:
"I'm guessing this is one of his kids movies. But those are usually fine. So 3 stars."
The review:
It's pure kids movie fun. Robert Rodriguez always makes perfectly watchable kids movie fare when he goes that way. Nobody should be surprised.
* * * (3 stars)
Final thoughts:
If you didn't like it, then it's because it wasn't for you. There's a lot of terrible kids movies out there. This one's actually pretty decent, all things considered. Plus there's actually a reasonable message behind it, which is better than the nothing most movies have.
* * * (3 stars)
How close was I?: Exact.
Herself
January's preview:
"3 stars."
The review:
This felt like a Ken Loach film or a Dardennes film. Which is a very good thing. It's a slice of life drama about a woman who gets out of an abusive relationship and is now a single mother struggling to get by. So she decides to build her own house with the help of anyone she can get to help her. There's a realness to this that really shines, along with a terrific central performance from Clare Dunne. Highly recommend seeing this one when it comes out on Amazon next week.
* * * ½ (3.5 stars)
Final thoughts:
This is a good one (and it's from the director of Mamma Mia and The Iron Lady, if that means anything). It actually feels almost like the 2020 version of a Frank Capra movie. Community members coming together to help someone in need. Only here with the problems of the current day. It's a really strong film worth seeing.
* * * ½ (3.5 stars)
How close was I?: Off by a half-star.
Monster Hunter
January's preview:
"Video game movie directed by Paul W.S. Anderson and starring Milla Jovovich. Where have we seen that path before?"
"I guess we assume 3 stars and the usual generic action thing, though if it's really generic, it could go 2.5. There's really no other alternative except one or the other."
The review:
"It's a Paul W.S. Anderson film. You've seen Resident Evil. You know what it is. Generic 3-star action movies. He's consistent in the quality."
"Milla Jovovich is the Helena Bonham Carter of Paul W.S. Anderson's films."
"You can set a watch to this stuff. It's elevated Uwe Boll territory. Watchable, but never good. It is what it is."
* * * (3 stars)
Final thoughts:
Movie was generic. My Helena Bonham Carter analogy was A+
* * * (3 stars)
How close was I?: Exact.
– – – – – – – – – –