The Oscar Quest: Reconsidered (Best Picture, 1969-1970)
The Oscar Quest began in May of 2010. I finished about fifteen months later, and wrote it up for this site. That was essentially the first thing I did on here. Five years have passed since then. I've grown as a person. My tastes have changed, matured (or gotten more immature, in some cases). So it feels fitting, on the five year anniversary of the site and of the Oscar Quest, to revisit it.
I want to see just how my opinions about things have changed over the past five years. I didn't do any particular work or catch-up for this. I didn't go back and watch all the movies again. Some I went back to see naturally, others I haven't watched in five years. I really just want to go back and rewrite the whole thing as a more mature person, less concerned with making points about certain categories and films than with just analyzing the whole thing as objectively as I can to give people who are interested as much information as possible.
This is the more mature version of the Oscar Quest. Updated, more in-depth, as objective as possible, less hostile. You can still read the old articles, but know that those are of a certain time, and these represent the present.
Anne of the Thousand Days
Butch Cassidy and the Sundance Kid
Hello, Dolly!
Midnight Cowboy
Z
Analysis:
Anne of the Thousand Days is the last (well… there's one more, but it's not British. It's Russian, so not exactly like these) of the British costume dramas to be nominated for Best Picture. Quintessentially 60s.
Richard Burton is Henry VIII and Genevieve Bujold is Anne Boleyn. And it's about his frustration with his wife not having a male heir, and his infatuation with Anne, his mistress, who maneuvers her way into becoming his wife, promising him an heir. And, for those who know history… doesn't end well for her.
I like this film a lot. In 1969, it's a pretty bad choice, and is a holdover from what Hollywood didn't want to be anymore. But it's still a good film. I certainly like it enough to nominate it. But not enough to vote for it. At best a third choice. Though it's probably fourth.
Butch Cassidy and the Sundance Kid is an all-timer. What a masterpiece this is. I mean–
There were dozens of gifs I could have put. I just love that one.
This movie is perfect. It's a classic. Look at the name. I don't need to say anything more.
It's clearly top two in the category. Maybe you take it, maybe you don't. I'd wager most people would take it.
Hello, Dolly!
You don't have to shout it. She's right there.
This is a musical version of The Matchmaker. A woman who arranges marriages for others. And it's about her falling in love.
It's a Barbra Streisand musical. I'm assuming because they nominated her the year before, this was just another thing they did. It's a decent enough movie. Very bloated, not overly a classic, definitely not something that should have won. This would have been a backwards choice for them and one of the bottom ten winners of all time, had it won. Here, it's just a blank you skip over because there's no way you'd actually take it.
Midnight Cowboy is an incredible film. All-time classic.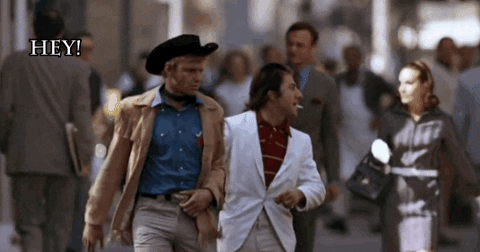 Jon Voight is a cowboy who comes to New York to become a gigolo. He hooks up with Dustin Hoffman, and they form a weird friendship. That's pretty much the film. It's very good.
For 1969, this was a great choice. It's everything they'd have wanted out of a winner in this changing era of Hollywood. Has it held up better than Butch and Sundance? That's debatable. But there's no denying it's a great choice. And this is pretty much a 50/50 decision between the two no matter how you slice this category.
Z is a forgotten film, but it's awesome.
It's Costa-Gavras, who had The Battle of Algiers before this. It's about the aftermath of a political assassination. One side tries to solve it, and the other side tries to cover it up. It's brilliantly directed.
It's a terrific film. Incredibly edited (it won the Oscar for Editing), wonderfully made. Great nominee. Though it's always weird when they nominate foreign films for Best Picture, because you wonder how that happened, given how few times it has happened throughout history. But still, this is solid enough to be considered a third choice here. Maybe some have it top two, but pretty much this category is still between Butch and Sundance and Midnight Cowboy. I like this film a lot, but I wouldn't take it over those two.
– – – – – – – – – –
The Reconsideration: It's a 50/50 choice, with an honorable mention to Z. Butch Cassidy and the Sundance Kid or Midnight Cowboy. My choice is already made. I love Butch and Sundance so much, I'm gonna take it every time no matter what. That's just how it is for me. But I'd argue that Midnight Cowboy might be the better choice here. Well… I'll get to it in a second. Both things can be true. Either way, while I love Midnight Cowboy, I love Butch Cassidy and the Sundance Kid more. So that's my choice.
– – – – – – – – – –
Rankings (films):
Butch Cassidy and the Sundance Kid
Midnight Cowboy
Z
Anne of the Thousand Days
Hello, Dolly!
Rankings (films):
Butch Cassidy and the Sundance Kid
Midnight Cowboy
Anne of the Thousand Days
Z
Hello, Dolly!
My Vote: Butch Cassidy and the Sundance Kid
Recommendations:
Butch Cassidy and the Sundance Kid is one of the 100 most essential films ever made.
Midnight Cowboy is an essential, a Best Picture winner, a classic — every film buff must see this. Come on:
Anne of the Thousand Days is a great film. I love it. Not everyone does. But if you liked Becket and A Man for All Seasons and The Lion in Winter, why would you not see this too? It's just like those. High recommend from me, though not essential.
Z is a great film. High recommend, definitely worth seeing. Not essential, but check it out. It's really good. Hidden gem of the Oscars.
Hello, Dolly! is a solid enough musical. Barbra Streisand, Walter Matthau, directed by Gene Kelly. And they referenced it in Wall-E. So there's that. Moderate recommend at best out of me. It's just okay. Not essential.
The Last Word: Midnight Cowboy is the best choice for 1969, but for history, Butch Cassidy and the Sundance Kid has held up as the best film that would have been the better choice. As it stands, Midnight Cowboy is a very solid winner and holds up just fine. It's just… there's another film that's held up better. It happens. Good choice, and there was a slightly better one to be had. No problems with this.
– – – – – – – – – –
– – – – – – – – – –
Airport
Five Easy Pieces
Love Story
MASH
Patton
Analysis:
Airport is the new big thing at the Oscars: the disaster movie. They went all in on these for a few years, and then relegated the genre to "been there, done that, here's a couple of tech nominations."
It's a bunch of different people and their stories, all surrounding an airport and planes. The kooky old woman who sneaks onto planes, the guy planning to blow up a plane, the guy running the airport and his failing marriage, the pilot having an affair — all that stuff. It's like The V.I.P.s, but you have the disaster element, where they have to land the damaged plane. So almost The High and the Mighty meets The V.I.P.s. And it spawned basically an entire genre.
Solid film. Not a good winner. Wouldn't have held up. It's that film that you like from the category but wouldn't vote for unless it's a clear favorite. Even then, you know it shouldn't have won.
Five Easy Pieces is a real classic. A 70s classic. One of those quintessentially 70s films. I didn't fully appreciate it the first time out. That's why I'm glad I updated this.
Jack Nicholson is a guy working in an oil field. He lives a simple life. Works, gets drunk, has a girlfriend, hangs out with friends. We also find out he's a classically trained pianist and a music prodigy. On a whim, he goes to LA to visit his sister, who says their father is dying. So he travels east to see his father. It's a great movie. It's much more than that synopsis. Just see it. It's fantastic.
This is a strong set of nominees. This isn't as close to the vote as it should be. There's a lot of things to trip this up from being the vote. I wonder how many votes this gets in an open vote nowadays. It's definitely strong enough to be in contention, but I can already tell I wouldn't take it above the others in the field.
Love Story is an all-time romance. Now, it may look dated and cheesy to some, but this movie was a phenomenon in 1970.
Boy meets girl. Boy is rich, girl is poor. But it's love. And we follow them on their (insert title here).
I love this film a lot. I get that not everyone does, and I wouldn't ever defend this as the proper winner in the category. It wouldn't have held up that well. It would have been a decent choice for 1970, but not a choice that's held up over time. Though I will warn you now, my sentimental ass will probably take this.
MASH is Robert Altman's great comedy. It spawned one of the most famous TV shows of all time.
It's about the hijinks of a MASH unit in Korea. That's it. You should know what it is, it's so famous.
This movie is hilarious. It's incredible. Wouldn't take it, not sure it particularly should have won. But I do like it a lot. Second favorite film in the category.
Patton is a biopic of General Patton.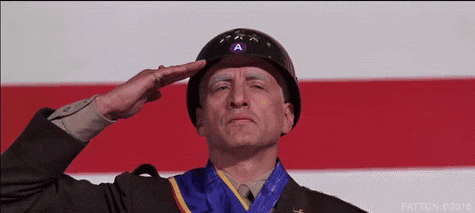 One of the most iconic screen performances ever and a great film. All-around a solid choice for the year. It's the kind of film that prevents them from making a decision that doesn't hold up. Clearly a good choice, though not my favorite film. So it's probably gonna be one of those choices I'm all for but wouldn't take just because of personal preference.
– – – – – – – – – –
The Reconsideration: So, I'm gonna take Love Story. I figure I should get that out of the way up top. I just love that movie. I'm aware of how that movie is thought of among everyone else. I don't care. I like what I like and I don't give a shit how anyone feels. The minute you give in to what other people think, the minute there's no such thing as freedom of expression and individuality. So I'm taking it, and that's that.
Now — Five Easy Pieces. Great film, would be a great choice. MASH, great film, would be worthy of a choice. Not sure it holds up as a winner, but I'm not sure how any of these hold up as a winner.
Patton is probably the film that makes the most sense here as a winner. Probably the best film, likely the film that holds up the best as a winner historically. Still gonna take what I'm gonna take, but Patton's probably the right way to go here.
– – – – – – – – – –
Rankings (category):
Patton
Love Story
Five Easy Pieces
MASH
Airport
Rankings (films):
Love Story
MASH
Patton
Five Easy Pieces
Airport
My Vote: Love Story
Recommendations:
Patton is an essential film. All time war film, with some of the most iconic moments ever shot. Great performance, Best Picture winner. Should be seen all around.
Love Story is an essential film. It is. You can't discuss film history without this film coming up. This film saved an entire studio from bankruptcy. And it's one of the most famous romance films of all time. Great romance films become their own cliche and that's what happened to this. Time is rarely kind to films of this sort.
MASH is an essential film. It's fucking MASH. Don't you know you need to see this?
Five Easy Pieces is an essential film. Essential 70s, and essential all time. It's just great. "I want you to hold it between your knees." This film represents an era.
Airport is an essential disaster movie. We went five for five here. It's a great film, with a lot of stars, and all star disaster movies are always worth watching. Especially these early ones, when they were classy affairs. This is a classic.
The Last Word: Hard to argue with Patton as a winner. Solid choice all around. And of all the films in the category, I can't see anything else that would hold up better than it has as a winner. Love Story's become very dated, and MASH wouldn't have been a great winner. It's better served where it is. Five Easy Pieces is a solid film and representative of its era, but I can't say it's definitively a better choice than Patton. So I think they made the right choice here.
– – – – – – – – – –
(Read more Oscar Quest articles.)
2 responses