Fun with Franchises: Harry Potter and the Sorcerer's Stone (2001), Part II — "Way to Say Slytherin Like an Asshole, Maggie Smith"
Today we continue with another entry in our Fun with Franchises series, Harry Potter and the Sorcerer's Stone (or Philosopher's Stone, for those of you whose country doesn't have to have the final say on titles and blatantly disrespects authors like that), Part Deux.
In case you don't know how this works — a while back, I decided to rank my favorite Disney movies and rank my favorite James Bond movies. And the Disney ones were mostly straight synopses and not too much fun, but when I got to Bond, I enlisted the help of my friend Colin (whose blog is TokyoRemix.com. Fuck yeah, promotion!), who knows everything about the Bond franchise that I do not, for those articles, and along the way, learned how to have fun with it. And, by the end of the Bond articles, we were having so much fun that I said, "Man, we have to do this again with other stuff." Because I spent about a straight month and a half putting together those articles. That's how much time and effort actually goes into something like that. And not once did it feel like work. It was so much fun that I knew, as long as we were doing it for comedy purposes and able to riff off of each other — we could do pretty much any film and it would work.
And very quickly, the first ones you come up with are the major franchises, because those are not only the most fun, but also the most universally known. Everyone's gonna understand all the jokes we make (well… most of them. Some of them might be limited to three people) about them. So that's what we're doing. And if you're gonna have fun with franchises, it wouldn't be right if you didn't franchise it. Also, just so we're clear, this is all for parody. We're just messing with them because we love them.
And that's Fun with Franchises. Right now, we're doing the Harry Potter franchise, and today is the second part of Harry Potter and the Sorcerer's Stone.
Anyway, when last we left our story, Harry found out who killed his parents and they had a train to catch. We resume as Harry is about to take the magical journey to the wonderful wizarding school (and horrible sexually-transmitted affliction) that is Hogwarts…
So Harry and Hagrid enter Kings Cross Station. Because a giant in rags and a young boy with an owl are totally something people won't look twice at.
Platform 9 ¾ is also what I call my dick.
(Also, does this imply that Hogwarts students can't board the train without a ticket? Will they get thrown off, Indy style, if they don't have one? Could you scalp a ticket to a muggle friend? How does this ticket stuff work? Do the Hogwarts Express people really go and take tickets like Amtrak?)
Unaccompanied minor. Way to go, Hagrid.
(Also, how does a giant who can't really do magic disappear that quickly?)
I tried what's about to happen in the New Haven train station once. A homeless man laughed at me.
When in doubt, follow the redheads.
Colin:
Somehow, that sounds like a line out of Hitler's playbook. 
The Swastika Linings Playbook?
He's gonna fuck that in six years.
That's how that shit's done.
"Now you, Fred." (P.S. What up, Julie Walters?)
"He's not Fred, I am!"
"Honestly woman… you call yourself our mother?" (Awesome.)
"I'm only joking… I am Fred!"
You think she made that same joke when identifying the body?
Aww shit… Ron Weasley. Pretty big smile for someone without a soul.
"Good luck." (She gonna have some good luck getting that DICK in a couple years!)
(Nailed it.)
Colin:
This is weird to see now. Cause she turns out to be a SKANK. Note how not a single other person in this franchise dates around, but she gets with every guy at Hogwarts. There's no nice way of putting it — she's been scoured more times than Snape's cauldron.

Who do you think takes care of abortions at Hogwarts? Madam Pomfrey? Or would there be a charm, or a potion? I guess there's always those trick staircases…
The Morning After Potion.
Avada Ke-fetus.
Colin:
Would you not just use Sectumsempra?

I love that we're discussing wizarding abortions and that there are viable options from the books to be considered. 
Madame Pomfrey running a back alley abortion clinic in the Shrieking Shack.
"She took a bludger to the babymaker."
Colin:
What if the trimesters were designated, not as first, second and third, but instead as snitch, bludger, quaffle? And terminating a quaffle would be punishable by time in Azkaban. 
Now I'm picturing the mandatory sex-ed classes at Hogwarts.
This NEEDS to be turned into a TV series. I'd LOVE to see them spend an episode with someone who thinks they're pregnant and is worried about what to do all episode. Whispering between classes about having missed a period and shit.
Colin:
What's a period called for them? Riding the cotton hippogriff?
Wouldn't it be fucked up to see Madame Pomfrey performing an abortion in the Shrieking Shack, all bleak and shit, single take, and it's just the most horrific thing in the world? I'd buy cable for that.
(For the show and probably for the abortion.)
This actually looks like a toy up close.
Oh wow… that's another good name for my penis.
They must make a train set of this that you can buy, right? Otherwise they're leaving a shitload of money on the table.
Colin:
Lionel Trains makes a set. Goes for about $250. No money is left on that table.
Not after buying that thing. But you know what is left on the table? My new Hogwarts train.
Choo choo, motherfucker.
Colin:
Said Tiger Tanaka with a wry smile.
Oh… he makes Choo Choo do nasty things.
I can't not think Buster Keaton no matter how hard I try.
Do they ever explain how long it takes for that train to reach Hogwarts? Or, you know… where the fuck Hogwarts actually is?
Colin:
I remember the books saying that the train headed north (although, most things are north of London) and now that I check, apparently Hogwarts is in Scotland. Probably just around the corner from Skyfall.

You know who else is from Scotland? Cho Chang. 

Screw you, Rowling.
They have a candy trolley. That's badass. Do the seventh-years get an open bar?
What do you think it would have been like going to Hogwarts in the 60s? "Cigarette, cigar?" Slapping the stewardess on the ass as she passes. Magic Mad Men.
Oh, but yeah — Ron's too poor to afford shit and Harry pulls out some of his gold and makes it rain.
"We'll take the lot!" he says, which is funny, since does he even know the wizard exchange rate? Or is he just pulling out a wad of cash and being like, "You just take out whatever it is and give me the change." Which, way to go. I'm sure she won't charge you Idiot Tax.
Peter Pettigrew, you fat fuck.
Magic or no magic, root canal is a bitch.
Also, way to ruin your appetite, guys. You're going to a feast!
The chocolate frogs have warts.
And apparently real fears of being eaten.
"I have no regrets!"
Reminds me of that guy in The Bourne Identity.
Fred gave Ron a spell to turn Scabbers yellow. (Don't think he needs much help there.)
"Has anyone seen a toad? Oh…are you guys doing magic?"
She's like, the Nick Charles of magic. ("Did she hear it… or smell it?")
Colin:
That's Hermione, isn't it? That was a spell, wasn't it? They'll get together.
That telescoppy's workin' regular now.
"That's the sexiest shit I ever heard. She ain't got much in the trunk but I'd fucks wid it."
"Yeah… I would."
"Oh… are you doing magic?"
"I love magic."
"Oh yeah…."
"Yeah… go ahead. You do that magic."
"Mmhmmm…"
"Do that shit REAL slow…"
"Sunshine daisies, butter mellow, turn this stupid fat rat yellow."
Of course Ron fucks it up.
Also, your entire family is magical and you think that's a real spell?
"Is that a real spell? Well, it's not very good, is it?"
Look all smug now if you want, Hermione. In less than a decade, Ron's going to cum all over your face.
Colin:
Nutticum Busticus!
Oh, trust me, Ron, that will happen.
Gonna do it right there.
Look, we all have to come to terms with things.
Harry knows what's up.
Woman, you don't just point your wand at people like that. What if the safety's off?
Colin:
And here we are at the Schloss Adler. 
I didn't get introduced to college that way.
Colin:
Wesleyan's a lot like Hogwarts…but most people were bigger on Herbology. My man Neville knows what I'm talking about. 
I can just imagine student protests at Hogwarts. People upset at their meal plan because the Great Hall doesn't serve vegan.
Ze-Who-Must-Not-Be-Named.
What's the electric bill like at this place? Or are those all candles?
Look at this set. I can't believe they never won an Oscar for this set. It held up through seven movies. (Eight movies, even!)
It's funny that some of these kids have no idea what's going on, and they were just put on a three hour train ride (probably three hours, right?), put into boats and taken to a castle. And no one's explained shit to them.
Yeah, that's right… send the children to Maggie.
I love how her first words to the kids are essentially, "You're about to be put into a fraternity. You're all gonna go to one of four places, and your place is like your family, so if someone's not in your place, you can't really be friends with them." (Grove Street for life, son!)
Can somebody find me a picture of Maggie Smith making a "west side" gesture?
But that's kind of fucked up, though. You don't even get a chance to make friends with people and you separate them.
What kind of hazing do you think the houses do?
Colin:
Kids are cute when they're like two to three years old. Look at these goons. Look at Ron's goon face. Ten year old kids have no concept of what the fuck they're doing, where they are or how to stand. Look at the blond kid near the back right, craning his neck to see Maggie Smith. "Is she talking? Fuck, I left my Fruit Roll-Up on the train. Is there like a lost and found, or….?"
The four houses are "Gryffindor, Hufflepuff, Ravenclaw, and Slytherin."
Colin:
Way to say "Slytherin" like an asshole, Maggie Smith. We all know you hate them.
That's a subtitle for this part: "Way to Say Slytherin Like an Asshole, Maggie Smith."
Colin:
I also love the look she gives Neville after he picks up his toad.
Not a euphemism.
"Trevor!"
Colin:
She's like, "Please don't put this motherfucker in my house. Dear Lord, make him a Hufflepuff."
Oh shit… Eddie Munster up in this bitch.
The name's Malfoy. Draco Malfoy."
"Did you just snort at me, motherfucker?"
"Red hair, and a hand-me-down robe… you must be a Weasley."
Hands down one of the best put-downs I've ever heard.
Colin:
The more I think about it, the more the wizarding community starts to sound like some bullshit flyspeck island in the Caribbean. Think about it, there's ONE school for the whole country, and there are few enough people in attendance that you know your whole class. And the world's so small that this rich kid is able to recognize someone he's never met by the quality of his clothing and his hair color. Being Minister of Magic can't be that big a deal if the voting majority is like 150 people.
As far as we know, there's the UK school, the French school and the Bulgarian school, and that's it. Apparently America isn't magical. This is never explained. What about transfer students and shit? There's such great material here to be mined.
Colin:
That's the fucked up part. They don't mention SHIT. There's quidditch teams from Japan and America and all over the place. Voldemort is doing evil stuff in England, but there are wizards all around the world. Are we to believe that he's gonna rule the world? How about the US wizard CIA shows up and takes him down in 30 seconds? We're pretty much made to accept that the UK is the whole world except for two boarding schools that exist abroad and a dragon colony in Eastern Europe.
"Felix Felicis. Brother from Langley."
I'm not good with body language. I think this means they're gonna be friends.
Maggie just lets this play out. This is cheaper than her bum fights.
Jesus, Maggie. He's eleven. Not Al Quaeda.
And here we go, seeing The Great Hall for the first time.
I want a room like that.
I want a ceiling like that.
The floating candles are one of my favorite touches in this entire franchise. I want candles that can do that.
I want a… actually, nah. I don't want a hat like that.
That's a drunken scarecrow's hat.
Who's that shifty ass A-rab in the corner? What's he selling?
That looks like old Monica Bellucci and Christopher Walken in a beard.
(Or, for Colin and the few people who will actually know who I'm talking about… Richard Slotkin.)
Black witch! Dare I ask what she teaches?
(The fucked up thing is that we never see black teachers in this school. Maybe it's Ancient Runes or something, or one of those classes they can't be bothered to teach us about in the books or the films.)
(Also, no joke, I'd actually rather take most of their magic classes than I would have wanted to take like 85% of the classes I took in college.)
"Good morning. In less than an hour, aircraft from around the world…"
Oh, wait… wrong movie.
Oh yeah… Filch.
And Mrs. Norris.
Dumbledore stands up and basically says, "Welcome, freshmen. I'd like you to know, the dark forest is off limits to all students. Oh, and you can't go into the east wing of the third floor or else you're going to die a most horrible death. You may serve the fish."
Time to get sorted…
"If you know what I mean…"
This is pretty fucked up… making all them go through this. Publicly.
Colin:
That hat has a vagina mouth.
Has anyone stuck their dick into the Sorting Hat?
Hermione goes first. She gets put into Gryffindor.
Weird that they chose her to go first of all people.
(Also, I notice the Sorting Hat didn't sing any song.)
"Good… good."
What a great way to clap.
Draco's turn. But before we get into that…
Why does everybody cheer when someone gets sorted? Isn't the sorting based on their personalities? So why would you cheer? "Yes, score one for us!" Either it's by random chance, and you're cheering random chance, or you're cheering, "Yeah! Someone just like us!" If you're gonna do that, at least throw in a "gooble gobble."
Here's another thing – how come all the houses end up evenly-numbered? Does that mean there's just as many evil people as there are good people? Since presumably Slytherin is home to assholes, based on what this movie tells us. ("There's not a witch or wizard who went bad who wasn't in Slytherin.") There have to be some good people in Slytherin, right? Does that mean the Sorting Hat is rigged? Does it intentionally put people into Slytherin even if they don't fit the Slytherin type? Even if they're not Penske material? Does that mean that someone could end up in Hufflepuff just because they needed to round out the numbers? Murky business, this sorting stuff.
Colin:
"What, why Slytherin? Why me?"

"Look, we needed an Asian kid. Now shut up and get us house points."

Also, you know used to be good at sorting? Concentration camp commandants.
Somebody Photoshop me a picture of a concentration camp using the Sorting Hat. PLEASE somebody make me that.
I love this touch – the hat doesn't even have to touch his head and it knows he's a Slytherin.
Maybe the hat is drunk. That's a possibility. It just sort of decides randomly, "I'm gonna put you there… because you have nice boobies and I like boobies, and that table sits closet to where they keep my stool. And I'd like to see your boobies more often." (The Sorting Hat does sound a lot like Dudley Moore, now that I think about it.)
Hogwarts: Six Relatively Good Years.
(Everyone who got that should be both amazed and horrified right now.)
Colin:
I am horrified. Oh, Luna Lovegood. No.
I like how when they announce Susan Bones and she walks up, you just know she's gonna be a Hufflepuff. Plus the camera totally ignores her and moves onto something else. That's another way to tell.
Colin:
I always thought the Sorting Hat talked to you in your head. This thing is talking loud enough for everyone to hear. How embarrassing is that? "Oh, I see you have an oversized vagina. Better be HUFFLEPUFF!"

Hufflepuff is now my euphemism for an oversized vagina.
Give a Hufflepuff some deep Diggory.
Oh shit… Snape up in the house.
Harry's scar hurts. You know what that means…
Colin:
"I see…I see…a creepy dude with long, black hair. He sticks it to little boys."
Colin:
"I know it was you."
Apparently so does that kid next to Harry. Holy shit, man, pull back that stare about 999 yards.
Colin:
Let's be real. We've all had a creepy chemistry teacher. Right?

Right?
I had an Asian chemistry teacher. Her name was Ms. Hsu. She taught chemistry as her main focus and then was made to teach us for physics because they had no one else. She had no idea what she was doing. When we did that project with the eggs and the milk cartons where you have to stuff the cartons so the eggs don't break when you throw them out a window. I called mine "Egg Drop Hsu."
The moral of this story is that I was just as awesome back then as I am now.
(Also, look at Snape. Pinky out.)
"Oh, another Weasley, eh…"
(What he leaves out is, "You motherfuckers multiply like rabbits.")
"I know just what to do with you…"
Oh I bet you do you dirty hat.
So Ron goes to Gryffindor too. Which I buy. The Hermione thing is weird, since based on what we find out about her, she's borderline Ravenclaw. But I guess we need the leads all in the same house. Some shit just needs to be rigged.
Oh shit, it's Harry's turn. Everyone sits up to pay attention to this one.
(Look at all these people. They're so young. Look at Seamus and Dean!)
Disney framing. (Had to mention it.)
The hat doesn't know what to do. It's "difficult… very difficult."
Harry also says "Not Slytherin" over and over, not realizing that he's saying it out loud.
"Not Slytherin, eh? Are you sure? You could be great, you know…"
What kind of peer pressure is this shit?
Somebody is drunk right now, and for some stupid reason it isn't me.
But Harry's persistent. Not Slytherin. Well, if he's sure, "Better be – Gryffindor!"
I didn't know we were taking requests.
I also love how they don't even bother to read the names in any coherent order. Weird how McGonagall knew who the primary people in the films were gonna be, and knew when to throw on a bullshit Hufflepuff so we could watch something else for a few seconds.
Colin:
Well, either way, I'm glad they skipped most of the ceremony. It's just old hat, really.
All the teachers are clapping that Harry went to Gryffindor too. The only thing missing is someone slipping someone else a twenty.
Oh, wait – there it is! "I told you. Now it's time to collect."
"Oh, I did that shit."
Colin:
"There once was a dream that was foam…"
"Butterbeer… you make my DAY-AY-AY!!"
(Also, look at that silverware. Straight gold. I'd totally be pawning that shit if I were someone. I was gonna say Filch, but he seems like the polishing type. Slughorn, maybe.)
"You can eat now, bitches."
Motherfucker knows magic, man.
Then we get some exposition, finding out about Snape, how he teachers potions, but really wants the Defense Against the Dark Arts job and has been after it for years. Which brings me to another question…
Snape is working as a double agent this whole time (Spoiler alert: Read the fucking books). So shouldn't he know that Quirrell has Voldielocks strapped to the back of his head?
Colin:
Conversely, since Snape is clearly fucking Quirrell's shit up as Voldemort's strapped to the back of his head, shouldn't Voldie not trust Snape in the future? Wouldn't Snape have reported some shit to Dumbledore? Seems like Rowling grafted the whole double agent sub-plot on later.
Ah, and there's our comic relief – Nearly Headless Nick. He's gonna disappear after the next movie anyway, so let's not bother wasting time on him.
1-800-NO-GHOST
Too bad they didn't do that before the Vanquish.
Colin:
Oh that piece of shit. Why did you have to bring that up?
The same reason I randomly bring up Ballistic: Ecks vs. Sever to Shiho.
I'm an asshole.
(It wasn't that bad, was it?)
Colin:
It WAS that bad! Seriously? An invisible car with missiles everywhere and a battering ra– oh, did you mean the headless stuff?
Weird how we went from that opening scene and that flashback to this. This is production design.
They get led back to the dorms. And they find out that the staircases "like to change." Like someone with DID.
(Great shots, though.)
This place looks awesome.
This is their dorm room. It looks like a harem in Calcutta.
Ah, everybody remembers their first hall meeting.
At mine, my roommate and I were sitting on a couch basically made for two people, and a football player came and sat down right between us and was like, "Sup, fellas, how's it going? … wait, you guys aren't gay, are you?" That was fun. He also farted really loudly during the meeting. Good times.
Nice shot.
Also, ♫ "Somewhere, out there…" ♫
"Don't you pet me, I'm still mad at you for that cage shit you pulled earlier."
Hedwig is totally a sassy black owl.
I kind of wish they made this franchise into a TV series, just so they could get into all the really interesting shit the movies never could. Like class registration. Prerequisites and Gen Eds and shit.
Cats can't teach metaphysics!
Also, what are they writing down? Nothing's going on. Are they copying the notes on the board? Or are they all writing headings down and shit.
Remember that? Headings? What bullshit.
Harry and Ron arrive late, thinking everything's cool.
Same.
"Oh y'all motherfuckers didn't know I was here, did you?"
Colin:
That ain't shit. Read a few dozen Animorphs books and get back to me.
What kind of shit you think she turns into when she's fucking?
(I almost said "back in the day when she was fucking," but let's face it, it's Maggie Smith — it's always 'the day.')
And now Potions. Because who gives a fuck about learning? Get the punchline and fuck the rest.
Snape walks in like he just had a fight with his wife.
"Look, motherfuckers, I'm your teacher, you listen to me, and if not Imma ship your asses to Saudi Arabia."
And already we see he doesn't like Harry and loves Draco.
He asks Harry a complicated question on the first day. He's that kind of teacher.
And she's that kind of student. (You know she sucked at least one dick for extra credit at that school. You know she did.)
The Irish kid wants to turn water into rum. I'd call them out for such blatant stereotyping, but he's is the most sensible person in this movie.
Mail time.
Get it? He's an orphan.
He got that doo doo cloud ball.
Neville got a remembrall. The problem is, he has a Liverpudlian accent.
Colin:
Apparently he's forgotten about his period. Also, Liverpudlian accents are hilarious.
Hey look, Gringotts got robbed. How many times is that over the course of this franchise? Maybe they should have followed that plan when they robbed the bank.
Look, I'm just saying — your break-in didn't go that smoothly.
Anyway, turns out the vault Harry and Hagrid emptied was the one they tried to rob.
Did Dumbledore know it was gonna be robbed? Maybe you should put the thing back in the vault now, after they already looked there.
Time for flying lessons.
Led by Madame Hooch, the perfect name for a lesbian gym teacher.
It looks like gym, too. 8:30 in the morning, don't wanna be doing shit, teacher making you run sprints while they stand there in shorts doing nothing.
Colin:
She tells them to "mount it and grip it tight. You don't want to be sliding off the end." It must really suck being the only lesbian in a wizarding community of like 200 people.
It's funny all the shit they introduce in this movie that you forget by the end of the franchise. I'd like to hear them, in Deathly Hallows, say "Up" every time they need their broom. Actually seems a lot simpler than "Accio," doesn't it? (It's like the dueling thing. By movie six, they completely ignore the whole "saying words while dueling" thing. It's just zap zap, and the only time someone says a spell when dueling is when Harry is using Expelliarmus like a bitch.)
Fun fact: They made Harry Potter toy brooms in the early 2000s, and they vibrated so you could pretend like you were flying, but they took them off the market when a lot of teenage girls were having way too much fun with them.
Damn it, Neville – THIS IS WHY WE CAN'T HAVE NICE THINGS!
I think her liver is failing.
Did you know brooms can withstand hitting stone at 30 miles per hour?
Well that's a fortunately placed statue.
Neville also looks like he's about to code.
Neville has a broken wrist and is taken to the hospital wing. Malfoy nicks his remembrall. And Dean Thomas don't trust the man.
Colin:
Remember what I said about ten year olds being goons? Look at the three kids behind Malfoy.
Hermione almost looks like that one girl that goes on vacation and comes back with dreads. You know the one.
Harry and Malfoy get into it.
What a great moment this is:
Adios, motherfuckaaaaaaa…
"Harry, what the fuck are you doing? You don't even know how to fly."
Well don't you feel dumb.
"What. An. Idiot."
Dick-waving contest.
Of course he throws it.
All this to save a tiny ass little thing that probably retails for like $29.99.
You're telling me you can't get an Amazon Prime Owl to get him another one by like, tomorrow?
Nice framing.
Caught that shit like a straight gangsta.
"Holy shit! That fucking kid almost got himself killed! Let's put him on the team!"
Maggie needs to get some Wood for a minute.
I like how she sees that happen and immediately goes to steal another kid from class just so she could tell him to put Harry on the Quidditch team.
Best shot in the movie.
Harry gets made the Gryffindor Seeker. The youngest Seeker in a century. He's worried he'll be terrible at it. Hermione just sort of forces her way into the conversation. But it's not weird because she randomly knows all about his pappy.
Notice who was also on that team. I feel like that's the bigger revelation in this image.
Colin:
This is apparently one of her nieces or nephews. Little Easter egg for you.
(Yeah, but what's even better is that SHE was on the team when she was a student too!)
Oh no, the stairs are changing!
How about you just wait for them to change back?
Or, do that.
Oh, but now they're on the third floor. It's verboten.
You pussies.
Quick – let's hide through that door. Oh, but it's locked.
Alohomora.
(That means hello AND goodbye.)
Isn't it great that all the top secret shit in the school has about the same protection as an AOL pop-up blocker? Shouldn't first years NOT be able to do this? (And we haven't even gotten to the third act yet…)
Colin:
This is what I'm talking about. They get into the secret corridor with Alohamora? That's like…babytown frolics. You'd think that the MacGuffin that this entire plot revolves around would be protected by some pretty powerful charms. At least something that wouldn't be stymied by the "Standard Book of Spells, Chapter Seven."

I feel like the only reason this worked for us was because we were roughly the same age as the characters as the books and movies were coming out and that they were staggered enough that we didn't notice the gradual trend away from this baby shit. Now that you watch them together, though…what the hell is this supposed to be?
I love that it took seven chapters to get to Alohomora.
Also, is that a statue of a ghost giving a Nazi salute?
Also – you have that thing behind a door and the only security you have for it is a fucking padlock? Man, peace time security is lax.
Yeah, I'm sure that'll hold.
Ah, a good old walk and talk.
Hermione says it's there on purpose, the three-headed dog, because it was standing on a trap door. So it's guarding something. (Or that's just where it shits.)
Now she's going to bed, before either of them come up with another plan to get them all killed.
"Or worse… expelled."
"Man, she NEEDS to get some dick."
Time to learn about Quidditch.
Aww… that would be the size of Dobby's coffin.
That's the Quaffle. It's when too much air builds up, and…
Moving on.
The Chasers handle the quaffle and try to put it into one of those holes.
I apologize for nothing.
That's the bludger. It's funny thinking that he had to roll around pretending it was moving when they shot this scene.
But that's all just noise. All Harry need concern himself with –
— is this.
The Golden Snatch.
"I like this ball."
"Ah, you like it now. Just wait… calling you up at all hours of the day, complaining about what some other women did… sucking the life out of you, spending all your money and never appreciating you. Making you want to grab them by the head and squeeze until their brains explode all over the coffee table… what were we saying?"
Here's how the actual exchange goes:
"It's wicked fast and damn near impossible to see."
"What do I do with it?"
"You catch it. Before the other team's Seeker. You catch this, the game is over. You catch this, Potter – and we win."
I'm just saying – it's not me that's drawing the comparisons. I'm just a messenger.
Colin:
This is also wrong. There are instances where the other team is up by more than 150 points and you don't want to catch the snitch or else you'll lose.

But shit, it my neighborhood, we don't catch snitches, we stab em.
Golden Snitches get golden stitches.
But seriously, this isn't an inaccurate comparison.
Filius Flitwick – baddest motherfucker at Hogwarts.
(He certainly changes appearances over the course of the films.)
Teaching them the "swish and flick" movement.
Teaching them that Wingardium Leviosa.
Look at him. "BANG BANG!"
"All right, all right – hold it. You're gonna kill someone. Also, you're saying it wrong. It's Levi-O-sa. Not Levi-o-SA."
You think she said that to him when they banged the first time?
Colin:
It's like she knows she needs to start teaching him those gentle ways. Even though she love it rough, she ain't kidding nobody.
Also, he totally said it right the first time.
Colin:
Look at the other dumbass ginger behind them! She makes this shot. Looks like she's gonna cry. 
This changes nothing.
Why must the Irish kid always explode?
"Man, that girl was a BITCH, wasn't she?"
Uh oh, Ron.
"Fucking women, man…"
Colin:
Think the Sorcerer's Stone does Midol too, or…?
Ah… Flag Day.
There is a complete disregard for dental hygiene at this school. (Also – were they making it rain? Why is there money on the table?)
Where's Hermione?
"Oh, she's just in the girls bathroom, crying."
"Oh, so nothing important, then. Carry on."
"TROLL IN THE DUNGEON!"
Black witch is unimpressed.
We should start referring to pregnancy as having a "troll in the dungeon."
Colin:

Quirrell likes a troll in the dungeon.
Or maybe like a power ballad or something. "There's a troll in the dungeon / My heart's in so much pain…"
I also love how he just goes, "Thought you ought to know," before he passes out. That's pretty funny.
What a bitch.
It's like they said the secret word on Pee-Wee or found out black people moved in next door or something.
I also like how they step over their professor's body — like one would in a real emergency.
"Hey yo – Shut the fuck UP!"
Colin:
Dumbledore should have been played by James Earl Jones.
Look at that girl in front.
"Please. I've been killing trolls all my motherfuckin' life, son. Students, get your asses upstairs. Teachers – let's fuck some shit up."
Naturally it's time to sneak out like that.
Uh oh – Hermione's in the girl's bathroom.
Granger Danger!
Colin:
Ten points to Hufflepuff for that one.
"It's going into the girl's bathroom!"
Dare I ask why?
Walk up to the club like:
Kumbaya…
She don't want it willingly.
What's funny is how shitty this bathroom looks compared to the one we discover in the next movie. Why would you use a bathroom that looks like a crackhouse or hipster bar bathroom instead of a nice one where you have to deal with an annoying ghost for three minutes?
Yeah, do that. That'll end well.
Wow, the CGI looks horrible when you pause it like that.
Colin:
I didn't even have to pause it to be let down by the CGI. Is this seriously what it looked like then? You hear those stories about how James Cameron wanted to make Avatar in the late 90s but decided that he should wait for the technology to improve — that man was RIGHT. Imagine Avatar with these graphics.
(It already has this writing…)
Now what do you do?
"I know – Wingardium Leviosa!"
Ron actually did something right for once.
"What do we do now?"
"Let's see how big his dick is!"
"Jesus, Ronald."
That's been me on many a Wednesday morning.
"What the FUCK?"
Hermione takes the blame for the three of them. (She also looks like she took something else. What the fuck is that on her CHEST?) This makes them respect her.
The Gay Wand Clerk.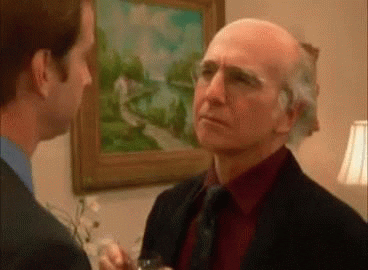 "…Bitch."
Hermione gets five points taken away from Gryffindor. But good old Maggie…
She gives Ron and Harry five points each.
So for those counting – almost getting yourself killed, minus 5 points. Taking down a mountain troll, 5 points each, playing a game of chess – 50 points.
Now again I ask – what's the deal here? Does Snape not know Voldemort is behind that turban? I'm not understanding the relationship between the two of them. Isn't he supposed to be helping Voldemort? There doesn't seem to be any reasonable way to explain this at all.
Colin:
Back to what I was saying before. Yes. Rowling either didn't think this through or had no idea what she'd be doing in later books. You could say that she didn't know it would pan out into the full franchise, but I just read an interview in which she claims that the entire franchise's plot is based around Dumbledore and [primarily] Snape. That she was building to the big reveal about Snape in book seven from the very start, with clues and snippets here and there. So this is just sloppy.
So then Snape comes up to Harry at breakfast the next day. Walk of shame sort of deal.
"Don't judge me."
I knew it. He's Keyser Soze.
Harry thinks Snape let the troll in so he can go after what the three-headed dog is after. And since people broke into Gringotts to steal the thing Hagrid picked up for Dumbledore, that must be what the three-headed dog is guarding.
Boom. Sherlocked.
Colin:
Hey, what's for breakfast guys? Is that red herring?
Is that what Harry calls Ginny's…
Harry's got some mail.
(So what happens if an Owl is delivering a stereo or something from wizard Amazon?)
(I'd love to see a wizard UPS guy come to pick up shit from Hogwarts.)
I wonder what the fuck it could be.
A Nimbus 2000! Wow! It's like it was perfectly set up with a throwaway line earlier!
But who could have given him that?
Oh, Maggie, you sexy little minx.
Colin:
Is that Hedwig with her? Like Hedwig dropped off the parcel and was then like, "Hey, Maggie. I just made the drop like you said. Where's the mice you promised?" And Maggie's like, "Yeah, motherfucker, your bird works for ME now."
Hedwig is so baked.
Reaction shots are the key to comedy.
Remember Gladiator?
"At my signal, unleash hell."
"Scared, Harry?"
"Yeah."
"Yeah, I was too before my first time."
(Look, the comparisons are already there. You're doing it too.)
"What happened your first time?"
"I don't really remember. He said he was gentle, though."
Anyway, it's time for Quidditch…
Love this stadium.
Of course you let the first year Jamaican kid do the announcing.
Colin:
In my mind, a grown up Lee Jordan would be played by the guy who was Gabor in The World is Not Enough. You know the one I mean.
You think Hogwarts ever had a Quidditch riot? This is some real gangland shit going on right here.
Colors represent.
Also, look at these people. This looks like a Donald Trump rally. If there was ever any doubt that the Slytherins were the Republicans of Hogwarts, look at the kid right behind Malfoy.
Do the kids have to walk up those towers just to get to their seats. That must suck. Trek all the way out to the stadium and then walk up a hundred feet in narrow, rickety staircases to freeze your nuts off while people fly on brooms and throw shit at each other.
So are they D-1, or…
Dude, you can end the game right now.
This is why you need a lizard tongue.
Oh, it's on.
Do what you do, Angelina Johnson!
I hope the coach is on the sideline shouting, "DEFENSE!"
Wait, who is the coach? Is Snape the coach? Quidditch teams don't seem to have coaches, do they?
Do the kids just coach one another? Because that's fucked up. Try that in any other universe. Have your ten year olds organize a play or a concert. It'll be a fucking disaster. No wonder people almost get killed in this stadium.
Colin:
So much for magic. You're using a 1930s cash register to keep score of this game.
And he's commentating from a rotary phone receiver from the 30s.
Oh, but Marcus Flint's got a shot at it.
DE-NIED!
He peaked at Hogwarts.
What is wrong with your teeth?
Anyway, the game goes on. We'll spare the details, for time's sake. Until…
Flint fucks up Wood's day real good.
How come only the area around the goals has sand at the bottom and everything else is grass? Seems like a weird decision to put something that could break one's fall and then not put it anywhere else.
Get in the game!
He's just sitting there watching things happen. Go… seek.
What's the magic equivalent of an Eiffel Tower?
Get that shit!
Oh, but his broom's all fucked up.
I love these reactions.
I hope they put a rag doll on a stick and shook it around for this shot.
It's Snape!
(Look at that fucker with the moustache!)
Unless you have the ability to pause your movie, or, you know… pay attention to the entire image.
Colin:
What's with the counter curse? Why not just karate chop him and break his concentration that way?
This is why we're here. To offer the simple solutions to life's problems.
Colin:
I think I'd be a valuable addition to the wizarding community because I could remind them that they should stop relying on magic so much and karate chop more of their problems.
How to Stop Relying on Magic and Karate Chop Your Problems.
Look at the rest of this image — there's a woman with a cowboy hat, there's a guy with a yarmulke over on the left, there's a woman with a beret, there's a guy who looks like a complete hippie down at the bottom, there's a guy with one of those Russian hats behind Snape, the guy at the bottom left is wearing a bandit hat, the woman on the bottom center has a chef's hat, and there's two people who look kinda like Helena Bonham Carter and Jim Broadbent, strangely.
Though, the Jim Broadbent guy also has a Fred Willard thing going on.
And then there's Dave Grohl back there, who looks like he just got finished shooting Shakespeare in Love.
Do pull ups!
Meh. That's not so bad.
I also love that none of his teammates come over to help him out.
Or, you know… the teachers.
Is Dumbledore even here for this? Or was Richard Harris on a bender the week they shot this?
Oh she's fucking ready for this shit.
She snuck over there right quick. Picture that — she went from one tower, down to the bottom, all the way to the other side of the stadium and climbed up another tower all while Harry was hanging from his broom. How long was he being bucked? That's gotta be some kind of rodeo record.
"Whistling bells, lute and lyre, set this motherfucker's pants on FIRE!"
Now break out!
Is that Cleavon Little?
Also, you people are wizards. Get some fucking gloves with fingers on them. What is this, "Invite the Homeless Day"? Maybe that's why Dumbledore isn't there. He doesn't do peasants.
Subtle.
Someone needs a change of pants.
That's my snitch.
"I don't know about you, but I'm ready to die today."
"That's what I thought."
Colin:
Ginny wasn't here to see this, but she'll find out eventually that Harry Potter don't pull out of NOTHING.
He pulled the parking brake.
Is the Snitch sentient? Does it know Harry is about to grab it? Or is it just bewitched and moves about randomly until it's caught?
I don't think there's been a shift as marked and empirical since the transition to sound as the one of computerized visual effects has been. This is crazy. This is what visual effects looked like in 2001.
They weird tattered robes from the thirteenth century, but they do have sneakers.
"So that's what it tastes like…"
Ah, Dumbs is here. Notice that he's in close up, which means it was a pickup shot on the one day Harris agreed to show up.
Imagine if people cheered like that when EVERYBODY lost their virginity.
Right, though?
It's hard for me to watch this and not think of "Wizard People, Dear Reader," which, in my opinion, is the BEST Potter spoof/parody out there.
So we'll END PART II there, as I (and you as well) go rewatch the brilliance that is Wizard People, Dear Reader.
– – – – – – – – – –
Tomorrow is Part III, and Invisibility Cloaks, dead people in a mirror, the dark forest, and "Happy Christmas, Harry."
(See the rest of the Fun with Franchises articles here.)
3 responses