Fun with Franchises: Harry Potter and the Goblet of Fire (2005), Part III — "Was That Racist? I Wanna Feel Like That Was Racist"
We continue with another entry in our Fun with Franchises series, Harry Potter and the Goblet of Fire.
In case you don't know how this works — after doing a couple of trial runs without realizing it (Disney movies, Bond movies), I realized that I really enjoyed going through movies frame by frame, commenting on them and cracking jokes like I would if I was sitting around watching them with friends. So I decided to make it a feature on the site and enlisted my friend Colin to help (since it's better when you have another person to play off). None of this is meant to be any real in-depth analysis. We're just doing it for comedy and parody purposes. We're basically just doing what we would normally when talking about this stuff, which I'm sure are versions of the same conversations most people have.
And of course, if you're gonna do something called Fun with Franchises… you kinda have to franchise it. So we scribbled down a handful of franchises we knew we'd have the most fun going over, and that's what you're about to see. This is all done out of love and purely for the benefit of entertainment.
And that's Fun with Franchises. Right now, we're doing the Harry Potter franchise, and today is the third part of Harry Potter and the Goblet of Fire.
We begin Part III at Olympic Stadium.
So did they have to build this just to have this tournament? Whose job was that?
Because if there's one thing I know about this franchise, you'd assume they'd build a stadium like this with magic, but the likelihood is that they straight up had people build this by hand. They have these weird circuitous methods that somehow make things more difficult for themselves despite the presence of magic.
This looks like Proximo's place.
I wanna see Harry double decapitate a guy.
Colin:
Fred and George are bookies. I approve.
Not only are they bookies, but they're taking bets while walking around like peanut vendors! Genius!
"Cigarette, cigar? Twenty five quid on Cedric Diggory?"
My favorite thing about this scene is that we can only hear Dumbledore giving his speech in the background. I'm glad we don't have to see it like all the other times.
Colin:
I guess they used magic to make these uniforms. No sponsors. Harry'd have some whack sponsor, like Billabong.
Pottawea.
Though wouldn't it be funny to see wizards sell out like that? You know Gilderoy Lockhart had some deals.
I like that they have napping beds here, just in case. How long are they in this tent?
One of my favorite shots in the franchise.
Kind of killed by her saying, "Harry? Is that you?" but we'll let that go.
She asks how he's feeling and all that. It's quite nice.
"The key is to concentrate. After that you just have to –"
"Battle a dragon?"
Actually one of my favorite scenes in the entire franchise.
Colin:
Say what you want about Skeeter but she got that timing down.
And that O-face.
Ron ain't gonna like that.
Hermione gonna kill that bitch.
"Ah, young love."
Nothing like beds, rope ladders, oranges and piss water to prepare you for a dragon fight.
"Yeah, what do you know, Skeet Face?"
"This is gonna make a great story."
"You have no business here."
"Well hello."
Colin:
Viktor Krum disapproves. Because in Soviet Russia, story scoops you!
"Good day, champions."
Kakarot looks like Dumbledore just farted on his way in the tent.
Dumbledore definitely seems like a cropduster.
"What are you doing here, Miss Granger?"
Look at Crouch.
I love that Hermione just sort of backs out of the room, like, "I'll just be going now…"
They pull out which dragon they're gonna face.
Colin:
Baby, I like yo silver outfit.
Silver snakes.
Also, big fan of Madame Maxime's coke nail.
The Welsh Green dragon.
What's with that look? You knew you were getting a dragon. Was this not the one you studied for?
Kakarot.
"The Chinese Fireball. Ooooooh!"
Colin:
Was that racist? I wanna feel like that was racist.
Whaaaat? Racist?
Look at Skeet Face just creeping behind his back like that. How come Hermione had to leave but she gets to stay?
"The Swedish Short Snout."
That sounds like an insult.
"Which leaves –"
"The Horntail."
"What's that, boy?"
"Nothing."
"The Hungarian Horntail."
Harry clearly said Horntail. Did you really not catch that? Because then you'd have to pretend like they don't already know what the challenge is beforehand due to cheating.
Can I get one of those to keep? I want a miniature dragon.
They explain that the dragons have been given a golden egg to protect, and that the champions each have to collect the egg, which contains a clue for the next challenge. Without the egg, they can't possibly proceed.
Crouch is way too excited for this.
They're also counting on all these dragons having maternal instincts. But sure.
"Mr. Diggory – at the sound of the cannon –"
Colin:
"Fire!"
Why would you put a cannon on a pedestal inside a tent like that?
"What the fuck, Filch?"
I love this moment. I love what they do to Filch in the latter half of these movies.
What exactly is this tent? MASH?
We find out three of the four have won their challenges.
Does he not get to see how they do it? There's a lot of weird unwritten rules to this tournament. Isn't the goal to complete the challenge? Who the fuck cares what you know beforehand. What exactly is this contest even really testing?
Also, let's be honest, in this universe, you might as well just have this tournament instead of SATs. What better test of your real-world wizarding acumen than stuff like this? Since it's not like most of us use algebra in our daily lives. So fuck it. Have them battle dragons and shit. If anything this is teaching us how ill-prepared these students are for real world magic past basic functions and dumb shit.
Now, it's Harry's turn.
He looks like he's about to go fight a rancor.
Or like, the end of Coneheads. A reference I hope somebody gets.
Why you all cheering? Didn't you motherfuckers hate him last week?
"Throw me the idol, I throw you the egg."
THWAP!
"Sup?"
How did you not think to clock where the fucking dragon was before you stepped outside?
So… things are going well.
This is prime Potter right here. He did no prep work and just assumed he'd waltz in there and figure it out.
Kakarot is pleased.
Colin:
Hey Karkaroff, how bout using some magic and fixing those teeth?
"Accio Firebolt!"
Wow, all that learning he did in the book really paid off. To the point where we don't even know how the fuck he knows this spell.
"This broom better accio the fuck up."
Tally ho!
This shit is off the fucking chain!
So now a dragon is loose on school grounds. And we're just gonna let this happen in the spirit of competition?
Colin:
Serves you motherfuckers right for trying to watch. Harry just sent a dragon through the VIP box.
Colin:
"ARE YOU NOT ENTERTAINED?! ARE YOU NOT ENTERTAINED? IS THIS NOT WHY YOU ARE HERE?!"
Colin:
"Spaniard! Spaniard!"
At least you didn't get set on fire this time.
Hey now!
I love how no one cares that a dragon is on the loose. Especially since — once he gets the egg, are there like, wranglers or something to put it back in the cage? Because that dragon is supposed to protect the egg. Just because the humans think the contest is over does not mean that dragon does.
Reminds me of the great George Carlin one-liner: "A man who wrestles alligators was killed today when the gator didn't understand the universal signal for 'time out'."
He should put some nitrous on that broom.
"Clever girl."
But seriously, how do all creatures outsmart the people in these movies? Isn't it pretty obvious that if something is no longer behind you that it's about to be in front of you?
Harry Potter's Who Am I?
The owl shit is a nice touch.
"I'm the king of the world!"
I like how the dragon tastes a moment of freedom and then is like, "Nah… I'd rather kill this guy."
Filch is gonna have a fun time reshingling that roof.
(Also, it should be noted that Colin and I also both made a joke about Filch having to reshingle the roof. We watched the movie completely separately and compared notes afterward. That's how we do this. That's why it's so enjoyable whenever we make the exact same joke. Maybe we should start pointing it out from now on, so people know just how often that actually does happen.)
Accio a gun. Or another person to use as a meat shield.
"Use the force, Harry."
Oh, wait, wrong franchise.
But seriously, though. Put your back into it, motherfucker.
Naturally it's caught on the roof. And naturally he couldn't just push and then pull.
*record scratch* "This is me. You're probably wondering how I ended up here…"
Can everyone else even see what's going on right now? Or are they just chilling, waiting for something to come back?
I thought the dragon was supposed to be protecting the egg. How does it know Harry's the only one after it? What if someone just sauntered up and took it right now?
His ass is on fire.
Have fun with that one, Filch!
"YOU SHALL NOT PASS!"
Wrong franchises like a mo'fucker up in this article.
Also, I guess… people just can't enter or exit the school anymore?
Colin:
See, wizarding world? If you were ACTUALLY better than Muggles, you'd have the blimp cam to watch right now. Goodyear, what's up?
Goodyear Blimp:
Ice Cube's a pimp.
Colin:
Instead you get to magically sit there trying to imagine what's happening. Have fun with that.
In this shot I see – J.K. Rowling, Walter Huston, Wayne Newton, and Joel Edgerton with a full beard.
Colin:
Brought to you by Billabong.
I think we need to stop plugging them until they actually start sponsoring these articles. At that point, I'm fucking shameless. Til then — only shit that we really like. Like whiskey. I'll plug the shit out of whiskey.
Colin:
Let's be honest. A LOT of these articles have been brought to you in part by Suntory — though tonight is admittedly brought to you by Asahi. My life is just like Pride and Prejudice, but with booze instead of Mr. Darcy.
It is a truth universally acknowledged that a single man in possession of a good liver must be in want of a drink.
Maybe try some kind of stun spell on that dragon. I mean, if it works on trees…
"And that, my friends, is how I learned about conception."
Wouldn't be Hogwarts with at least one scene of people cheering.
For someone they usually hate.
Though he does raise the egg up like a douchebag, which I approve of.
Even the paintings are cheering!
He probably just won them a lot of money.
"Who wants me to open it?"
Colin:
The Indian chick! The Indian chick!
"You want me to open it?"
Way to milk a crowd, buddy.
Also, JT Hair is still around, I see.
I've done this at a party with alcohol before.
"OH MY GOD!"
"THAT'S THE MOST HORRIFIC THING I'VE EVER HEARD!"
"WHY WOULD YOU DO THAT?!"
They should cut to a moving picture of "The Scream." That would be hilarious.
You know. Like I did. And it was hilarious.
"What the fuck was that?"
Everyone gets quiet and Ron walks in.
This is like The Sandlot where the kid comes down from the treehouse after the vacuums explode.
It's about to get real homoerotic up in this common area.
Ron says he realizes Harry would have to have been batshit to put his name in the Goblet.
And just like that… they're friends again. I'm thinking this is all a reason to make Ron's uselessness as great as possible.
Ron says it was him who told Harry about the dragons. He told Hermione to tell Harry that Seamus told him that Pavarti told Dean that Hagrid was looking for him, when in reality Seamus never told him anything. He thought Harry would have figured that out.
"Who would have figured that out?"
"Boys…"
Favorite character in the franchise.
But either way, aww… Ron and Harry are friends again.
I bet the unedited version of this scene looks something like this.
At this point they're just trying to find angles they haven't used yet on this castle.
Do the Bulgarians really sleep in the ship every night?
Do they need to rowboat out there? With Krum all like: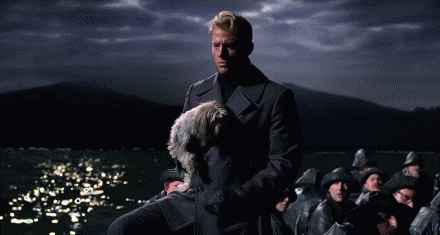 We're a ways away from that first movie, aren't we?
So many owls, though. How many times do you think people get hit with owl shit at this school?
They're eating cereal now? Maybe by Deathly Hallows they'll have real catered meals.
Love the line of toast, though. That's awesome.
"Hi, Harry."
"Oh yeah, I want me some of that brown sugar."
Colin:
Trying to get your twin action on? Cause you should be. I know it makes the most sense for the Patil twins to wind up with Fred and George, but…meh. Harry should try to collect all…two. I like that even though they're twins, Parvati and Padma are in different houses.
And are played by two people who are clearly not twins.
Colin:
They got real twins for the Weasleys, but for the Patils, they just sort of eyeballed it, apparently. Yet another example of these film people (in this case, not actually Rowling) doing something that can be pretty easily construed as racist. I can just imagine that casting call. "Okay, we've got the first one…Pavarotti? Whatever. Let's get the other one cast so we can hit the strip club. No, that one's too brown. And that one's too light. Can you split the difference? There. That one, you're hired to play Magda. Padma. Whatever."
But Harry don't want the twins.
He got that yellow fever!
Colin:
This white chick thinks it's about her. And guess what, white chicks sitting next to fine Asian girls: it's not.
Sometimes it is. Depends on which one is less likely to set a trash can on fire on your sheets.
Colin:
No, see, that's the scary thing about this illness. It's still about the Asian girl, trash can fire or no.
Shocking how often he makes this face in these movies.
Good job. You spilled your piss juice.
Colin:
Don't be ashamed. I dribble on myself when I see Asian girls, too. It's especially inconvenient, too, living in Tokyo. Mostly I just tell people I had a stroke.
I still don't know — was he drinking piss?
Hermione's pissed. Skeet Face did it again.
BACON!
I like the assumption that stupid people read this and buy into it.
What do you care? Neither of your parents will ever find out about it.
And by that I mean both Hermione and Harry.
Ron's got himself an intern.
Colin:
Who's the new house elf? Oh, it's a first year named Nigel.
Great face.
Colin:
I love how he keeps standing around, waiting to get tipped. He's a Weasley, kid. It ain't happening.
Cow tipped, maybe.
Mum's sent him something.
I love the wrinkly paper, that has clearly been reused multiple times.
Is that Susan Bones back there? Is she still alive?
Dress robes.
"Ginny, these must be for you."
"You must be out of your goddamn mind. I'm not wearing that shit."
Colin:
It's your family, skank. Beggars can't be choosers. And that's why you're going to sleep with e-e-e-e-e-e-veryone!
Gary Oldman:
I get it.
But they're not for her. They're for Ron.
Why does Ron need dress robes?
Colin:
Notice that being poor never seems to have an adverse effect on any of the Weasleys but Ron. The twins seem to be covered — where did they get their robes? Bill and Percy are never around enough to be visibly poor, and Ginny's clothes are fine and she's never put in a situation to be reminded of being poor except with her family.

Here's another thing — why are the Weasleys so poor? Is it cause there's a lot of them? We're made to believe that this is a pervading Weasley trait, not necessarily just with this generation. But we've met people who work with Arthur, and they aren't poor. So I guess Mr. Weasley is a bad investor, a degenerate drunk, or it's just the slew of kids that makes them unable to afford shit. The first two, fine. Fred and George are twins, so that can't be helped. So really it's just the last two that must have pushed them over the edge. Hear that, Ron and Ginny? YOU'RE why your family is poor. Ginny becomes a skank, Ron, so you should step up too. Wear those robes.
Or maybe we're just supposed to relate to the poor Irish Catholic family and Rowling didn't really think past that.
The Yule Ball.
Is that the mirror from Lupin's classroom?
It's a Tri-Wizard Tournament tradition. On Christmas Eve, everyone gathers in the Great Hall for a night of well-mannered frivolity.
Colin:
Well-mannered frivolity sounds like what Maggie Smith does when the lights go down.
Who says she turns the lights down?
"Right, now who here is familiar with the clitoris?"
"I'd fuck him, fuck him, not him – that one's all right…"
You know that's all we'd be doing if we were at that school.
YES! DEAN!
Maggie expects everyone to put their best foot forward — and she means that literally, because…
"The Yule Ball is first and foremost a dance."
Colin:
Maggie, was that a pun? Oh, you minx.
Reactions.
What did you all think well-mannered frivolity meant?
Dean knows what that really means.
"The house of Godric Gryffindor has commanded the respect of the wizard world for nearly ten centuries. I will not have you, in the course of a single evening, besmirching that name by behaving like a babbling, bumbling band of baboons."
Colin:
That was an adorable and agreeable abundance of alliteration.
"Yeah, that's right, I'm a thespian, bitch. I eat tongue-twisters for breakfast. Red leather, yellow leather. Gryffindor represent!"
None of you thought I had a picture Maggie Smith throwing up the gang signs, did you?
Surprise, motherfuckers!
"To dance is to let the body breathe, inside every girl a secret swan slumbers longing to burst forth and take flight."
Colin:
There's a secret swan inside every girl? It wants to burst? I really should have paid attention during sex ed.
Some of them over there are black swans. And by that I mean, temperamentally and not racially.
Isn't it fucked up that only the white people got direct lighting for this shot?
Maggie wants Ron.
"Place your right hand on my waist."
(This is the part where the only noise in the theater is me audibly going "YEAAHHHHH!!!!")
"Where?"
They know what's up. I love that one of them wolf whistles too.
Filch is the A/V guy. I love it. I love that they just have one guy for all of this stuff. It's always him. He really is the Renfield of Hogwarts.
What are you so upset about? That's Maggie Smith!
"You're never gonna let him forget this, are you?"
"Never."
YOU SAY THAT LIKE IT'S A BAD THING.
The women can't wait to do this.
The men want no part of this.
Also my god, look at this. That one kid is lit so bad he looks like he's wearing a ski mask. The other guy… actually… is that the first male Asian we've seen at this school?
Then there's Dean secretly scoping out which ones he wants to dance with.
Also, side note – what happened to that Jamaican kid who announced Quidditch games? Lee Jordan is his name. But I always know him as the Jamaican kid first and then his name comes to me later.
Colin:
Neville's waltzing by himself. To a guy, especially a high school guy, that's low. That's like, if they had bust in, he'd have thrown his hands down his pants and claimed to have been masturbating.
"No, no, I wasn't waltzing with myself, I was dancing with myself!"
Nice shoes, though! Did you need those to practice dancing, or does it just make you feel all fancy?
"Why do they have to travel in packs? How are you supposed to get one of them alone to ask them?"
Gee, I don't know. You're usually with Hermione all the time, maybe ask her.
Fun exercise – Find out what type of person you are:
Wh at did you notice first in this image?
1) The lips
2) The teeth
3) Cho Waldo-ing in the back
4) The scarves
5) The girl in back who looks like she gonna fuck you up if you go near Cho
6) The pasty white girl
Colin:
Which do you think I saw first? This is a picture of an Asian girl peering through seven piles of meat, with an eighth pile to the left.
I know which one Harry noticed.
And then quickly ran away from.
Even Ron is like, "Motherfucker, you've slain dragons! If you can't get a date, who can?"
Wait – did he actually kill that dragon? Is that what they do for the tournament? Bring in dragons so the contestants can kill them?
I love this scene. Hagrid and Madame Maxime flirting.
Which – I never gave that much thought… is Beauxbatons a high-priced whorehouse? They say it as "Madam" and not as "Ma-dame." Are they all just courtesans in training? With this wizarding economy, you never really know, do you?
Colin:
She looks like she could bite through an I-beam. Giving Greta Van Susteren a run for her money.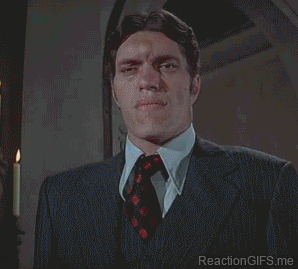 "I take after my mum. Though I didn't know her very well, she left when I was about three. No, not the maternal sort her, broke my dad's heart though."
"You know he was a tiny little fellow my dad, I could pick him up with one hand by the age of six and put him up in the dresser."
I wanna watch that rom com. Hagrid's parents.
"And then he died."
Colin:
I just bust out laughing at Hagrid. That was perfect. He's talking about his father, she picks something out of his beard, EATS IT, then leans in for a kiss, and…."Then he died!" Yeah, talk about your dead father. That's a panty dropper.
They're just sitting here, watching a Bulgarian work out, as you do.
It's like Rocky and Drago rolled into one.
Reaction shots.
"I want that purple stuff."
"This is mad. At this rate, we'll be the only ones of our year without a date."
"Well – us and Neville."
Damn. How are you gonna do your boy like that?
"It might interest you to know that Neville's already got someone."
Thousands of years of wizarding and you still haven't figured out something easier than the quill?
Colin:
ALERT: When Hermione tells Harry and Ron that Neville's got a date, there's someone strolling across the back of the shot, and it appears to be a black guy with a flat top. I really hope it isn't a hat, but I can't tell because this is a weak copy.
It looks like a hat, but I'm gonna hope it's the Radio Raheem haircut.
George passes Ron a note saying he needs to hurry up or only the ugly chicks will be left.
"Oh yeah – who are you going with, then?"
Ahhh!
Colin:
George! They asked who he was going with, so he just picked one at that moment. That was the single best instance of asking a girl out ever at Hogwarts. And about damned time, too, cause remember during The Chamber of Secrets articles when I said before that Angelina got a new, hotter actress for this movie? Look at that. All that jelly and no toast.
"Well, Hermione… you're a girl."
"Well spotted."
That was GREAT.
Colin:
This is one of those instances where one of the twins says or does something and it goes over really well with everyone involved, and then Ron tries the same thing and gets beaten up for it. Which is awesome. 
Is this a test they're taking, or what is this exactly? I'm not complaining, I'm just curious. Why does everyone need to be quiet apart from for the comedy to play out?
Ron says it's sad if a girl goes alone.
(P.S. I see Seamus in the background.)
Hermione's pissed. She says someone's asked her already.
"And I said yes."
The great thing about that was — she was finished with her shit the whole time. She was just hanging out because of them. She could have gotten up and left at any time. The fact that she chose that moment, and came back to throw on the extra "fuck you" is what makes it all the more impressive.
Colin:
I thought she had chosen that moment to finish her shit because it was convenient. Like, wasn't she writing up til that point? And miraculously finished at the exact right moment she wanted to? I saw it as a baller move like Kronsteen in From Russia With Love when he's summoned to the meeting with Blofeld in the middle of a chess tournament and checkmates the guy on the next turn. "Oh, time for me to go? Well, this has been fun, but I grow tired of our little game."
That's what I meant. I just phrased it incorrectly. It's still a baller ass move.
"She's lying, right?"
Colin:
Snape's gotta roll up his sleeves for this. He's such a badass. SHUT THE FUCK UP CHARLES!
I love that they worked this in. Snape doesn't say a fucking word in this scene and owns it.
I love that this is all the same set. You can see this shot and go, "That spot where Hermione punched Draco in the face."
Also, I guess they fixed that bridge from when the dragon broke it. Because otherwise that's like, super unsafe.
The Bridge on the River Kwai.
(TV Series idea.)
Do we ever find out just what exactly that little stonehenge thing is for? It's memorable, but it doesn't ever really serve a purpose.
And back to the Owl Shittery.
If you shot this slightly differently this would be a gorgeous image.
Look who he ran into!
And they do the awkward moving out of the way thing.
But she stops him and moves him out of the way.
Colin:
She's a take-charge kinda type. I'm down.
You were down thirty minutes ago.
Colin:
He's not wrong.
That's a sexy move, Cho.
Colin:
Swear to god I hadn't read this comment when I said I was into the take-charge thing. But then, how much of a coincidence is it that two straight guys would both find it sexy when a fine Asian girl manhandles a guy? Yeah.
Physical contact in general. Not a huge part of most Asian cultures. In Japan, we go through about seven steps of bowing and apologizing before even pointing at the other person and suggesting which way they go. I'm pretty sure that Cho grabbing Harry and moving him to the side constitutes dominatrix behavior in Japan.

Whoa, no. It does not. I googled some stuff, but you could probably just skip it.
If I write a movie set in Japan, I'm totally gonna write a scene of 'bowing as foreplay.'
She tells him to watch out, it's a bit icy at the top.
Colin:
You are… very Scottish.

(I should note that Mike puts in my initial comments from my viewing while he's doing the formatting and stuff, and then I come back to riff and make reactions to his screenshots, which I'm only seeing for the first time, and — I didn't specify where this comment was supposed to go, and he got it down to the exact shot.)
I always wonder if I'm hitting the right shot on some of them. To specify — usually what happens is, Colin'll watch the movies before I do, since his watch is just a quick watch and comment as he watches. Mine is watching and doing all the screenshots. I don't look at Colin's comments until after I write my synopsis, so as not to go, "Fuck, that joke is great. I don't want to write anything around it." Which is also why I have him do it. So I get his unfiltered opinion without it being influenced by all my crazy shit that I write. So he writes his comments as just a continuous thing and sends them over, unedited. I have no idea what part of the movie they're for (and I've had to guess quite a bit). It's nice to get it right for some of the more unspecified ones.
"I should have asked her."
"Cho?"
"Yes?"
In another movie, a hippogriff would show up and fucking annihilate her out of frame right now.
You stuttering prick, you.
He finally asks her.
Reaction shots are the key to comedy.
But then she actually says –
"I'm sorry. Someone's already asked me."
Awkward space. (Hooray, filmmaking!)
No one actually says who asked them in this movie. It's like they're ashamed to be seen with them outside of…
"Oh. I get it. Never mind."
He looks like he's gonna cry. Hey, at least you're on top of the owlery and can just throw yourself off of it. Plus, it's snowing, so no one would find you for at least two days.
Colin:
I totally understand this shit. This anxiety over pairing off. I made sure I had a girlfriend prior to junior prom AND senior prom. That shit wasn't getting left to chance. Not that the girlfriend was just about having a prom date, but man did that make things easy.
I didn't even know if my high school had a prom, that's how little I gave a shit.
"Fine, then, right. Good talk."
"Harry…"
His little shuffle step to come back out is HILARIOUS. It's like a cross between Filch running and Verbal Kint.
"I really am sorry."
Colin:
"…..how sorry?"
*Zip!*
Wouldn't it be funny if she slipped and fell down three hundred steps and then got back up and got hit by the Whomping Willow?
But actually though, shouldn't she have said, "If I didn't have someone and you'd asked me, I would have said yes"? Because then it's like, "I'm obligated to someone else, but I got feelings for you." This is like, "Sorry you look like such an asshole k thx bye!"
Is this a visual metaphor for jerking off?
Or is this a metaphor for descending into debilitating depression and alcoholism?
We END PART III in the middle of this debilitating depression.
– – – – – – – – – –
We continue tomorrow with Part IV, and the Yule Ball, Contest #2, Saudi A-lake-ia, and a ghost who really wants some dick.
(See the rest of the Fun with Franchises articles here.)
One response