The Oscar Quest: Reconsidered (Best Actor, 1979-1980)
The Oscar Quest began in May of 2010. I finished about fifteen months later, and wrote it up for this site. That was essentially the first thing I did on here. Five years have passed since then. I've grown as a person. My tastes have changed, matured (or gotten more immature, in some cases). So it feels fitting, on the five year anniversary of the site and of the Oscar Quest, to revisit it.
I want to see just how my opinions about things have changed over the past five years. I didn't do any particular work or catch-up for this. I didn't go back and watch all the movies again. Some I went back to see naturally, others I haven't watched in five years. I really just want to go back and rewrite the whole thing as a more mature person, less concerned with making points about certain categories and films than with just analyzing the whole thing as objectively as I can to give people who are interested as much information as possible.
This is the more mature version of the Oscar Quest. Updated, more in-depth, as objective as possible, less hostile. You can still read the old articles, but know that those are of a certain time, and these represent the present.
Dustin Hoffman, Kramer vs. Kramer
Jack Lemmon, The China Syndrome
Al Pacino, …And Justice for All
Roy Scheider, All That Jazz
Peter Sellers, Being There
Analysis:
I always consider 1979 my favorite Best Actor year. I don't know why. It's not like it's the strongest ever. I just really like the top three choices, and the remaining two are really solid as well.
Kramer vs. Kramer is the movie that put Dustin Hoffman over the top. He had The Graduate, Midnight Cowboy and Lenny behind him, and this performance was just too good to ignore.
He plays a workaholic father whose wife leaves him to "find herself." He's forced to take care of their son alone, which at first proves to be difficult, but it eventually makes him into a great father. And then his wife comes back seeking custody of their son, which he refuses to give. The beauty of this film is that it doesn't take sides, and that makes it feel all the more realistic.
Hoffman gives perhaps a career best performance, and it's hard not to take him in this category, despite the sentimental choice and otherwise that's to come. It's gonna be really difficult not to place him outright number #1. He's that good.
The China Syndrome is an awesome 70s film that I always say is designed to make you feel angry. And I love it when films do that.
Jack Lemmon works at a nuclear power plant. And after an almost meltdown, he finds out the company doesn't care about the safety of the plant and is willing to allow an actual meltdown to happen in order to keep productivity up. He tries to tell the higher ups but is quieted at every opportunity and is eventually fired and made to look incompetent. He tries to get Jane Fonda, a news reporter, to cover the story. Eventually he ends up inside the plant with a gun, holding everyone hostage, while Fonda and her cameraman Michael Douglas record the whole thing. It's a really great film. I was pissed when this ended. Silkwood is another one of those. Pissed at the greedy corporations and things of that sort that are willing to risk lives in favor of a bottom line.
Lemmon is great here, and while it is a more mainstream kind of role, he really does a great job at it. He has that everyman quality that ptus you right along his side throughout. I'd love to say he makes top two in this category, but he's not gonna make it higher than fourth for me just because the rest of the category is so strong. That's why I love the category. A performance like this only makes fourth.
…And Justice for All is a trial film. A really solid trial film, but also the beginning of Pacino's "yelling" roles.
He plays a lawyer who has to defend a judge who is accused of raping a woman. He hates this judge completely but is forced to defend him even though he knows he's guilty, which makes it even worse, especially since there are other, innocent clients who are in danger of going to prison for a long time.
Pacino is good here, but there's definitely a lot of yelling in the courtroom scenes. Everyone remembers the "this whole courtroom is out of order!" scene. Pacino is outright fifth in the category, and this feels like them throwing him a nomination for a baity role and because of his lack of wins to this point. No way he is the choice over anyone else in this category.
All That Jazz is one of my top ten favorite films of all time. I love this movie so fucking much.
Bob Fosse made a musical about his own death. That's literally what this is.
Roy Scheider plays the Fosse avatar in this film, a choreographer putting on a new play, editing his film about a comedian (Lenny), dealing with his ex-wife and daughter, mistress and his inability to not do drugs, drink and fuck other women. And this is all personified with him literally flirting with the angel of death throughout the film (which spoiler alert we only find out at the end, but don't worry, it's amazing). It's about this man's inability to stop himself from killing himself. And it's incredible.
This is Roy Scheider's best performance, and most years he would be my stone cold choice. I love this movie so much I still might take him. But fuck man, is this a strong category
Being There is Peter Sellers' masterwork.
He plays Chance the gardener, who has worked in the same house basically since birth. He is a simple man with no education who really only knows what he knows from watching TV. The master of the house dies, leaving him without any place to go, so he starts walking up the streets of the city. Eventually he is hit by a car belonging to a dying man who is a close advisor to the president. He is taken to the house to recover, but soon finds himself becoming a close advisor to the old man, who thinks him to be incredibly wise, even though he's spouting nonsense about gardening and stuff he saw on TV. And pretty soon he becomes a sensation as a political analyst, because people take whatever he says as sincere, well thought out advice. It's a wonderful film, with one of the most beautiful endings ever put to screen.
Sellers is absolutely astounding here, and I would not fault anyone who voted for him. I always want to take this performance as a default, but I'm always so torn between it and my love of All That Jazz as well as the greatness of Kramer vs. Kramer. Its' a three-way race and I love thinking about it, because it was impossible for the Academy to make a bad choice with this one.
– – – – – – – – – –
The Reconsideration: Take Pacino off the top, and Lemmon off not that long after. Pacino is the weakest link, and Lemmon just doesn't hold up against the competition.
Sellers is fucking incredible here, but I wish I could consider him anything more than a third choice for me. I might say he's second on performance, but I love All That Jazz and Roy Scheider's performance so much I wouldn't take Sellers over him. And usually my love of All That Jazz would put Scheider over the top, but Dustin Hoffman is so fucking good here, I think I need to take him. I'm not even factoring in his previous losses. I'd straight up call him the best performance in the category even without that. So since that's paramount for me this time, I gotta take Hoffman. It kills me to not be able to take Roy Scheider, but Hoffman's too good to ignore.
– – – – – – – – – –
Rankings (category):
Dustin Hoffman, Kramer vs. Kramer
Roy Scheider, All That Jazz
Peter Sellers, Being There
Jack Lemmon, The China Syndrome
Al Pacino, …And Justice for All
Rankings (films):
All That Jazz
Kramer vs. Kramer
Being There
The China Syndrome
…And Justice for All
My Vote: Dustin Hoffman, Kramer vs. Kramer
Recommendations:
Kramer vs. Kramer is essential. Best Picture winner, great film, great performances, and one of those films that still holds up today. Every film buff must see this.
All That Jazz is essential. Every film buff owes it to themselves to see this movie. It's perfect. It's so fucking good. You're not all gonna love it, but you need to see it.
Being There is essential. Completely essential and it features one of the most iconic final images in the history of film.
The China Syndrome is a film I'd say is essential. Not top tier essential, but still essential for film buffs. It's great 70s filmmaking and one of the most tense, captivating thrillers ever made. Most people will love this. It's amazing. Definitely see this if you love movies.
…And Justice for All is a solid film that I recommend fairly highly, but it's not essential. Worth it because it's well made, captivating, a trial film (they're always interesting) and is one of those films you can just enjoy. Definitely check this out.
The Last Word: This is one of the better, if not best, decisions of all time. Hoffman completely deserved this on performance and for his career. Scheider would have been okay, but probably wouldn't have held up as well as Hoffman has. Sellers would have been an interesting winner that I think we all would have been okay with. I think Hoffman and Sellers were the two best choices here, and there was really no way they could have gone wrong.
– – – – – – – – – –
– – – – – – – – – –
Robert De Niro, Raging Bull
Robert Duvall, The Great Santini
John Hurt, The Elephant Man
Jack Lemmon, Tribute
Peter O'Toole, The Stunt Man
Analysis:
Raging Bull.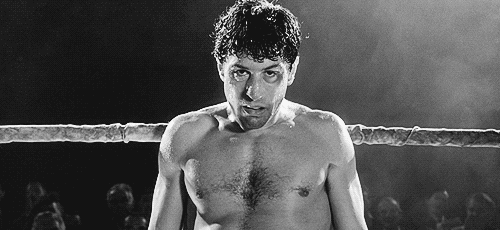 This is one of the greatest films ever made and one of the greatest performances ever committed to the screen.
You can say De Niro is slightly overdone and prefer another performance in the category to his, but you cannot deny that this is one of the best decisions the Academy ever made. What a brilliant culmination to a career. That is to say, culmination to an Oscar.
He wins this. I don't even care about the rest of the category. We all know he wins this.
The Great Santini is a really good film and great father/son story. Essentially forgotten, and I assumed when I first saw it Duvall would be good but forgettable. But he's legitimately great here.
Duvall is a military man who is very macho and overbearing. You know the type. He wakes his entire family up at 5 or 6 am every morning and makes them do exercises with him. He maintains total control over the entire family and is often verbally abusive of them. His oldest son is about to be college age, and doesn't want to enter the military, and would rather go to school. That's a no-no for Duvall, and he and his son have a contentious relationship. Though there's love there too. That's what makes it so great. You see all sides of the relationship.
It's kind of a two-hander between Duvall and Michael O'Keefe. Duvall is clearly the bigger presence in the film, and dominates every second he's on screen. One could say he overdoes it, but that's the character. He's larger than life. And Duvall nails it. He really does. I wish I could consider him, but most people wouldn't be able to name his character here. Everyone knows Jake LaMotta. He stands no chance.
The Elephant Man is one of those great films that has become almost timeless. People forget when exactly this came out. The year almost doesn't matter, it's so good.
It's about John Merrick, whose … well, everyone knows what he looked like. And it's about Anthony Hopkins as a doctor finding him being beaten at a freak show and taking him into a hospital when he realizes he's actually intelligent and has never been given the means to live a normal life. It's a fascinating story.
John Hurt is so heartbreaking as Merrick, and does some of his best work behind the prosthetics. And that's both the beauty and the drawback of the performance. You can feel the great work Hurt is doing behind the prosthetics, but you also get the sense that the prosthetics are doing a lot of the work. It's tough. I wouldn't take him over De Niro, but I could see some people doing so. And I wouldn't even be upset. I would firmly disagree, but I would completely understand the choice. He feels like a solid second choice in this one.
Tribute is the weak link to this category. Kind of like Pacino was to 1979.
This is a (pun ridiculously intended) tribute to Jack Lemmon, who they clearly would have nominated for anything. That's all it is. No one's even seen this movie anymore.
Lemmon plays a publicist who finds out he's dying and tries to go back and reconnect with his son. THat's pretty much it. He's been insincere and an asshole for years and is now trying to make amends. It's almost a Lifetime movie and feels very dated.
He's fifth in the category. Thre's no other way around it. Most people would call this a terrible nomination. I don't care either way. He's here, and as such, I have to consider him. But all four of the other performances tower over this one. He has no shot here.
The Stunt Man is one of the great films about filmmaking of all time.
Steve Railsback plays a man on the run from police who stumbles upon a film set right as the film's stuntman dies in a freak accident. Peter O'Toole, the authoritarian director of the film, tells Railsback he'll make him a deal — he take the place of the stuntman and he won't tell the police where he is. Everybody wins. So Railsback is working on this set, and goes down the rabbit hole, not knowing what is real and what isn't. And the film is loaded with all sorts of camera tricks and things that make the viewer unsure as to what the fuck is going on. It's a very dated film, but man, is it awesome.
This is one of Peter O'Toole's great performances, and it often goes underappreciated by most. But he's awesome here. And in a different year, he'd contend more. But here he feels like a fourth choice for me, third for most. I don't think you can rightly take him against such competition.
– – – – – – – – – –
The Reconsideration: It's De Niro all the way. One of the five best choices they ever made. Nothing more I need to reconsider about this or really say about it. There were three other great performances in the category, but De Niro was by far the best.
– – – – – – – – – –
Rankings (category):
Robert De Niro, Raging Bull
John Hurt, The Elephant Man
Robert Duvall, The Great Santini
Peter O'Toole, The Stunt Man
Jack Lemmon, Tribute
Rankings (films):
Raging Bull
The Elephant Man
The Stunt Man
The Great Santini
Tribute
My Vote: Robert De Niro, Raging Bull
Recommendations:
Do I need to say how essential Raging Bull is?
The Elephant Man is an essential film, and all film buffs should recognize this without me having to say it.
The Stunt Man should be considered essential for all film buffs. It's so fucking good and should be seen by all. It's still unfortunately underseen, which is a damn shame, because it's wonderful.
The Great Santini I recommend highly just because the performances are so good. It's just an above average movie, but I think people should see it. Check it out. Definite recommend.
Tribute is not something I recommend. Very light recommend because of Lemmon, but most people could skip this. You're not missing a whole lot.
The Last Word: It's one of the five best decisions they ever made. No one comes close, and De Niro was the only person who should have won this category.
– – – – – – – – – –
(Read more Oscar Quest articles.)